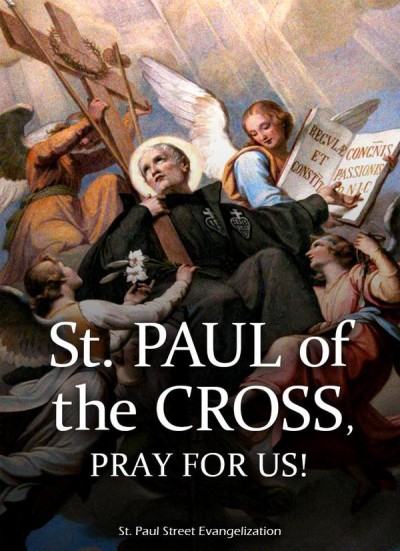 St. Paul of the Cross (1694-1775) Image: St. Paul Street Evangelization
(FranciscanMedia) Born in Italy, Paul was the son of a merchant according to SQPN and a religious devout youth, living at a time (similar to today) that many regarded Jesus as a good moral teacher but not much more.
After a brief time as a Soldier, Paul returned to solitude and prayer, developing a devotion to Christ's passion. Paul saw in Jesus' passion a demonstration of God's love for all people. In turn that devotion nurtured his compassion and supported a preaching ministry that touched the hearts of many listeners. — Paul became known as one of the most popular Ministers of his day, both for his words and his generous acts of mercy.
Paul founded the 'Congregation of the Discalced Clerks of the Most Holy Cross and Passion of Our Lord Jesus Christ' whose members combined devotion to Christ's passion with ministry to the poor and rigorous penances. — Known as the 'Passionists' they added a 4th vow to the traditional 3 of poverty, chastity and obedience to include, spreading the memory of Christ's passion among the faithful. — In 1747 Paul was elected 'Superior General' of the congregation, spending the remainder of his life in Rome.
In the month of October, 1775 Paul died and was Beatified in 1852 and Canonized in 1867 by Blessed Pope Pius IX
Over 2000 of St. Paul of the Cross letters and several of his short writings have survived and are available here courtesy of the 'Passionate Nuns' and here and at Amazon.com
More here from American Catholic