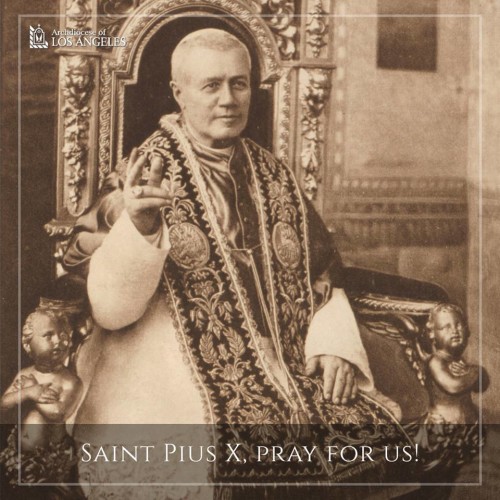 Pope Saint Pius X (1835-1914) –Image: Archbishop Jose Gomez
(CNA) Born into a poor family in Italy Venice, 'Giuseppe Melchiorre Sarto' was one of eight children (Franciscan Media reports that he was the second of 10 children) Giuseppe felt a calling to become a Priest at an early age, studying at the Seminary at Italy Padua according to SQPN he became an exceptional student and was Ordained into the Priesthood in 1858; Bishop in 1884; Assistant to the Pontifical Throne in 1891; Cardinal in 1893 and selected as the 257th Pope in 1903 taking the name Pius X
As Pope Pius X, he issued decrees and may be best remembered according to Franciscan Media of the frequent reception of the Holy Communion especially by children, making the age of their First Holy Communion earlier (at age 7 instead of ones early teenage years) — Pope Pius X promoted the reading of the Bible among Lay people, would reform the Liturgy, promoted clear, simple and concise Homilies and brought back the 'Gregorian Chant' initially developed during the 9th and 10th centuries with later additions and redaction's. — Pope Pius X, likewise revised the Breviary together with reorganizing the Curia and initiated the Codification of Canon Law.
Interested in politics according to Franciscan Media Pope Pius X encouraged Catholic's to become more politically active — In 1905 when France renounced its agreement with the Holy See and threatened to confiscate Church property, if governmental control of Church affairs was not granted, Pope Pius X, courageously rejected this demand.
While Pope Pius X did not author an Encyclical as his predecessor had done, he did however denounce the ill-treatment of the indigenous people of Peru; sent a relief commission to Sicily Messina and subsequent to an earthquake, sheltered survivors at his own expense.
On the 11th anniversary of Pope Pius X election as the Holy Father, Europe was plunged into WW I which he had foreseen and may have hastened his death:
"This is the last affliction the Lord will visit on me. I would gladly give my life to save my poor children from this ghastly scourge."
Pope Pius X died on this date in 1914 aggravated by concerns of the beginning of WW I — Pope Pius X was Beatified in 1951 and Canonized in 1954 by Pope Pius XII
More here from American Catholic