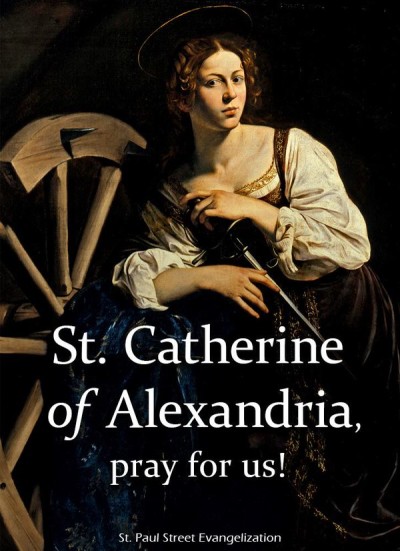 St. Catherine of Alexandria (287-305)
Image: St. Paul Street Evangelization
(Franciscan Media) Born in Egypt Alexandria,Catherine converted to Christianity according to EWTN after receiving a vision of Our Lady and the Holy Child.
At the age of 18 Catherine debated 50 Pagan Philosophers. Amazed at her wisdom and her debating skills, they all became Christians, as did about 200 Soldiers and members of the Emperor's family–all of them would be martyred.
Catherine was sentenced to be put to death on a spiked wheel. When she was fastened to the wheel, her bonds were miraculously loosened and the wheel itself broke, its spikes flying off killing some of the spectators, she was then beheaded. — Centuries later, Angels are said to have carried the body of St. Catherine to a Monastery at the foot of Mt. Sinai.
Devotion to St. Catherine spread as the result of the 'Crusades' shes been invoked as the Patroness of: Nurses, Lawyers, Librarians, Philosophers, Schoolchildren and Teachers. — St. Catherine is one of 14 'Holy Helpers' venerated especially in Germany and Hungary.