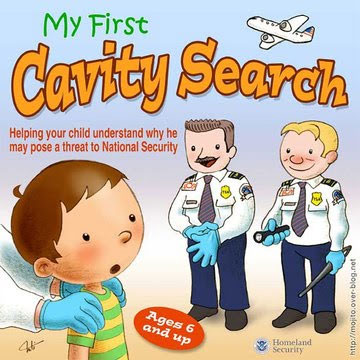 TSA Desktop Image Makes Joke of Airport Screening of Children
What Democrat-Socialists/Big Government Spending Liberals
Never Bothered To Mention:
 Did you know, that the nations airports are not required to have TSA Screeners checking passengers at Security checkpoints?
The 2001 law creating the Transportation Security Agency, gave airports the right to opt out of the TSA program in favor of private screeners after a two year period.
Now with the TSA engulfed in controversy and hated by millions of weary and sometimes humiliated travelers, Rep. John Mica, R-FL who soon will be the Chairman of the House Committee on Transportation and Infrastructure, is reminding airports they have a choice.
Mica, one of the authors of the original TSA bill, has recently written to the heads of more than 150 airports nationwide suggesting that they opt out of the TSA screening.
"When the TSA was established, it was never envisioned that it would become a huge, unwieldy bureaucracy which was soon to grow to 67,000 employees. As TSA has grown larger, more impersonal and administratively top-heavy, I believe that it's important that airports across the country consider utilizing the opt-out provision provided by law," writes Congressman Mica.
Rest here from Washington Examiner

Related: XXX Full Body Scanners: Pork that Makes Us Squeal–Before Its News
Opt Out Day: Saying No to XXX Full Body Scanners –The Atlantic
More Reasons to Hate the TSA –World News Daily/Information Clearing House