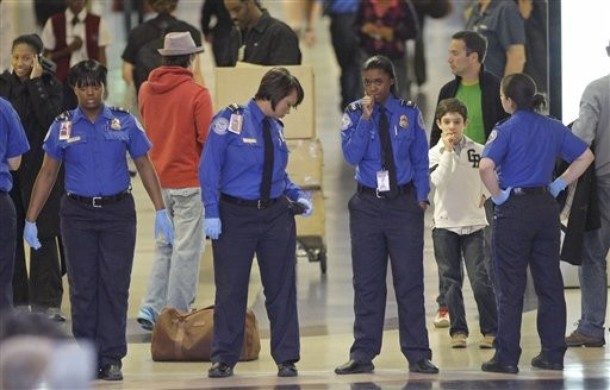 TSA wannabe cops at LAX doing busy work
Two months ago, Dept of Homeland Security Chief Janet Napolitano with the diversion of Economic Stimulus Dollars–Slush Fund (that was supposedly used to create all those promised "shovel ready jobs" I digress) purchased hundreds of XXX Full Body Imaging Scanners–unsure how they helped to stimulate the economy?

If TSA wasn't intrusive enough before, their newly established enhanced security groping of passengers and flights crews have been met with mounting resistance.
Who gave the government the right to trample on the 4th Amendment which guarantees that individuals are to be secure in their persons, houses, papers and effects from unreasonable search by agents of the federal government?

Airport & Watch List Harassment—Tell Your Story –ACLU
Electronic Body Scanner Incident Report–Electronic Privacy Information Center

Related: Don't let Strip and Grope Become the New Normal–Pajamas Media
TSA Now Putting Hands Down Fliers Pants–Prison Planet

3 Year Old to TSA–Stop Touching Me–HotAir

Drudge Stirs National Debate on TSA Abuse–Prison Planet
CAIR Demands Waiver by TSA of Women Wearing Hijabs–CNS News
George Soros Profiting from XXX Full Body Scanners–Washington Examiner

H/T: Xiao-Mei—Xiexie