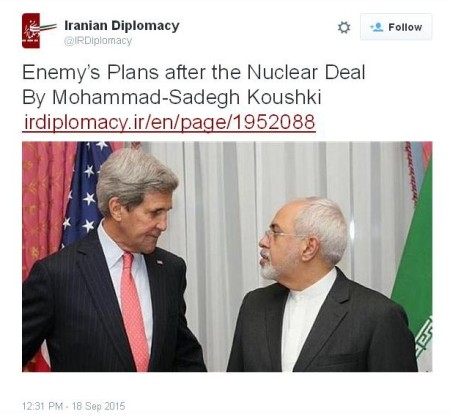 Secy of State John Kerry Meeting With Member of Iran's Nuclear Negotiating Team Mohammad Sadegh Koushki —IRDiplomacy@Twitter

(Iranian Diplomacy) Mohammad Koushki, a member of Iran's nuclear negotiating team clearly has no confidence in the U.S. speaking of the Iran nuclear deal in a recent article published in Jahan News Koushki reiterates Islamic Fascist Iran's view of Obama and the United States, once again referring to the U.S. as the 'Great Satan" and acknowledges that Iran has "barred direct access" to their nuclear weapons sites and must not allow "indirect access and infiltration," despite whatever assurances lies Obama tells.
It's sad that Americans have to rely on Iran more than one can trust Obama and the White House to be candid and honest about the Iranian nuclear deal.

On Thursday, I posted here a screenshot of Iran's Supreme Leader Khamenei Tweet (dated 16 September) in which he refers to the United States and the West as 'Enemies' before the ink is even dried on Obama's nuclear deal or the Congress has given it an up or down vote.