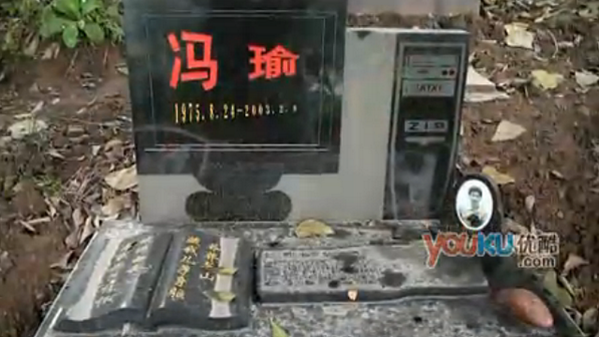 Computer Shaped Grave Stone –Image: Kotaku@Twitter
(Epoch Times) China regime official Zhang Chunxian in charge of the Xinjiang Uygur Autonomous Region blamed Internet freedom for causing terrorist attacks in a report given to the National People's Congress on Thursday in Beijing, arguing that:
"Ninety percent of the violent terrorist attacks by Xinjiang (Separatists) are due to circumvention technologies for breaking the firewall…They use videos on the Internet to continue organizing attacks."
Many Chinese resort to circumventing firewall using technologies such as "Freegate" because the China Regime strictly controls the Internet and blocks social media sites such as Facebook, Twitter and YouTube.
On the 16 July, 2012 I wrote here that the 'Sina-Weibo' account of the U.S. Consulate General in Shanghai disappeared, American diplomats naively were scratching their heads trying to figure out what had happened. Subsequently, on the 18 August, 2011 I wrote here that the China Regime attempted to scrub from the Internet blog posts reporting on the mass demonstrations that were happening in Dalian, Liaoning Province.
Free speech is essential in the pursuit of learning, every idea or thought is not an avenue of incitement, censorship only results in the pursuit of finding cracks in the Great Firewall of China.
Related: China Regime Unveils Govt Owned Search Engine

PRC Warns Internet Users Over Comments About Kunming Attack

Sina-Weibo Censors Working Hard to Remove Unwanted Posts About NPC