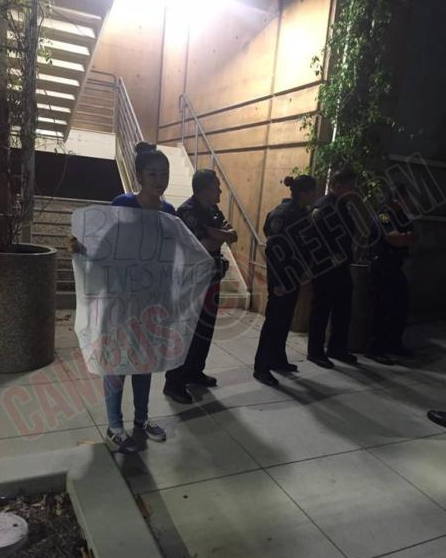 College Republican Student Holding 'Blue Lives Matter' Poster — Muslim Students Protesters Didn't Have any Interest in Opening Up any Dialogue and Shouted Over Every Attempt to Initiate Conversation about their Grievances
(Campus Reform) An event held by a Jewish student group at the Univ of California Irvine (UC Irvine) was disrupted Wednesday by a crowd of Muslim students chanting antisemitic and anti-police slogans.
Ariana Rowlands President of the College Republicans club at UC Irvine told 'Campus Reform' that her group had just wrapped up its meeting on Wednesday and were gathered outside the building preparing to hang posters to advertise an upcoming appearance of Milo Yiannopoulos a Breitbart News columnist, when they heard a commotion nearby.
Wandering over to investigate the 'College Republicans' member encountered a large group of students holding signs and screaming in unison to protest a movie screening being held by 'Students Supporting Israel' – Shawn Steel a Republican Natl Committee member who was on  the UC Irvine campus to address the 'College Republicans' meeting posted a video on Facebook capturing a portion of the demonstration.
"Intifada, Intifada long live the Intifada," the protesters shout at the beginning of the video following that up with a call and a response chant of "displacing people since 48 there's nothing here to celebrate."
They repeated their venomous chant several times before progressing to a more simple message of: "F–k the Police."
Kevin Brum, Vice President of 'Students Supporting Israel' (SSI) told 'Campus Reform' that the demonstrators were members of the 'Muslim Students Union' and 'Students for Justice in Palestine Groups' who were apparently incensed that two former Israel Defense Forces (IDF) soldiers were planning to meet with attendees of the screening.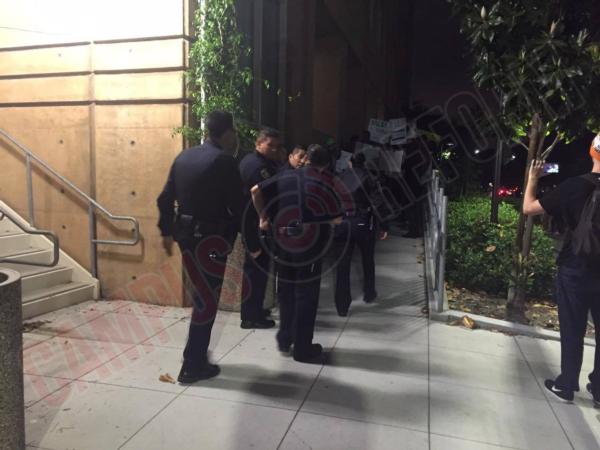 According to a post at SSI Facebook page police had to escort the attendees out of their planned event for their own safety when the intolerant Muslim's violated the SSI students constitutionally protected rights to peacefully assemble, watch a film and hear from former IDF soldiers were disrupted, when the Muslim students became "aggressive, blocking exits and not allowing people to leave (the venue) as well as forcing people to run and hide in rooms, fearing for their lives."
"They were shouting Intifada, Intifada long live the Intifada – All White people need to die and they chased a female student into another building," SSI further reported.
In March 2011 Jihad Watch reported that the 'Muslim Students Union' at UC Irvine, a 'Muslim Students Association' affiliate which the NY Police identified the organization as an 'incubator' for Islamic radicalism, had been suspended by the school after members repeatedly heckled Israeli Ambassador to the U.S. Michael Oren during a speech in 2010
More here on Muslim Students Association
H/T: Weasel Zippers
Tweet