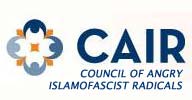 Florida Dept. of Law Enforcement Investigators were supervised by Hamas front organization CAIR when they interviewed Rifqa Bary's family in order to whitewash the investigations and send Ms. Bary back to Ohio and into the hands of a family which has threatened to murder her as an apostate.
It should be of little surprise that their reports which were under Court seal for 10 days and opened last evening, found there were no credible threats to Ms. Bary's welfare.
On the 03 September, I wrote here that Rifqa Bary from Columbus, Ohio remains safe in Florida after Ohio Authorities failed miserably to protect her from her family which threatened to kill her because of her conversion to Christianity.
In August, Atlas Shrugs reported  that Ohio school authorities were made aware of but ignored and brutality at the hands of her family.

On September 11 of all days Ohio Gov. Ted Strickland succumbed to heavy Islamic pressure and weighed in, urging Florida officials to send 17 year old Ms. Bary back to Columbus saying, "Child welfare agencies in Ohio and Franklin County, are fully capable for providing security and well being to Ohio's children," in his statement the Ohio Governor claimed, "…this is a family matter and would most appropriately be handled here in Ohio with the assistance of child welfare and foster care system."
Related Post: Is Newsweek Trying to Kill Rifqa Bary
Via Human Events
Saving Rifqa-A Call-to the "Pedophile Islamists
Animal" Element by Annie Hamilton Via Examiner.com

Risky for Rifqa in Ohio Via One News Now
Tweet