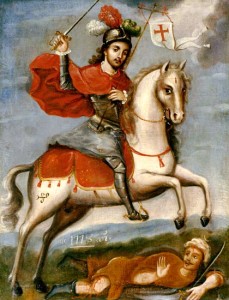 Saint James the Greater
Image: Knights of Columbus
(CNA) James the son of Zebedee and Salome, the brother of St. John the Apostle (Feast Day: 27 December) and may have been Jesus' cousin according to SQPN he is called 'The Greater' simply because he became an Apostle before St. James the Lesser (Feast Day: 03 May) was the first Apostle to be martyred with a sword by order of King Herod Agrippa in 44 at Jerusalem.
Saint James was one of three Apostles who were particularly close to Jesus, he was there with the Lord and his brother John and Peter at the Transfiguration, in the Garden of Gethsemane and most of the recorded miracles of Jesus Christ.
It is worthy of notice that James is never mentioned in the 'Gospel of Saint John' who observes a humble reserve not only with regard to himself but also about the members of his family.
Full biography here on St. James the Greater from EWTN

Tweet