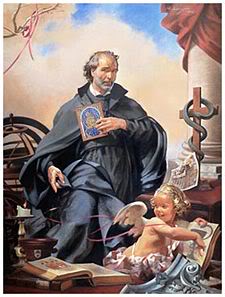 Saint John Leonardi (1541-1609)
Image Courtesy: 365 Rosaries
(Franciscan Media) "I am only one person. Why should I do anything? What good would it do?" — Today, as in any age, people seemed plagued by the dilemma of getting involved. In his own way, Saint John Leonardi answered these questions for himself–he chose to become a Priest.

Born in Italy Lucca, John Leonardi worked as a Pharmacist's apprentice according to SQPN while studying for the Priesthood, following his Ordination, Fr. Leonardi became very active in the ministry especially working to care for prisoners and the sick in hospitals. The example and dedication of his work attracted several young laymen who began to assist him–they too, later became Priests themselves.
Fr. Leonardi lived after the 'Protestant Reformation' and the 'Council of Trent' (1545-1563) he together with his followers established a new Congregation of Diocesan Priests 'Clerks Regular of the Mother of God of Lucca' for some reason, the new group of Priests provoked a huge political firestorm, resulting in Fr. Leonardi being exiled from his hometown for almost the remainder of his life. — Fr. Leonardi received encouragement and help from St. Philip Neri (Feast Day: 26 May) who provided him with lodging along with the care of his kitty.
In 1579 Fr. Leonardi formed the 'Confraternity of the Christian Doctrine' and likewise published a compendium of Christian doctrine that remained in use until the 19th century.
Fr. Leonardi and his companion Priests became a great power for good in Italy, their congregation of Diocesan Priests was confirmed in 1595 by Pope Clement — Fr. continued working with the sick through the remainder of his life and passed away on this date in 1609 after becoming ill after caring for victims of the plague.
Declared Venerable in 1701 by Pope Clement XI — Fr. Leonardi was Beatified in 1861 by Pope Blessed Pius IX (Feast Day: 07 February) and Canonized in 1938 by Pope Pius XI
More here from American Catholic
Tweet