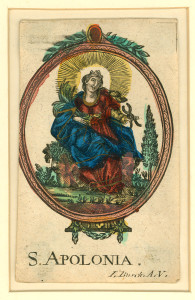 (Franciscan Media) The persecution of Christians began in Alexandria during the reign of Emperor Philip–the first victim of the pagan mob who refused to worship their pagan idols was an old man named Mertrius who was tortured and subsequently stoned to death, the second person who refused to bow down to their idols was a Christian Woman named Quinta, her words infuriated the mob, she was scourged and then stoned to death.
While many of the Christians were fleeing the city, abandoning all of their possessions, Apollonia was seized by the mob, that beat her, knocking her teeth out, subsequently lighting a large fire, the mob threatened to throw Apollonia in if she refused to curse God, she begged them to wait a moment, pretending to be considering their demands, instead she threw herself into the flames and so suffered martyrdom.
There have been many Churches and alters dedicated to Apollonia, the Patroness of Dentists and people have sought her intercession that have suffered toothaches and dental issues–Saint Augustine explained her voluntary martyrdom as a special inspiration of the Holy Spirit–Apollonia attained glory in her later years, standing firm before her persecutors even as other Christians fled the city.
Related: Saint Apollonia –Children's Rosary
Tweet