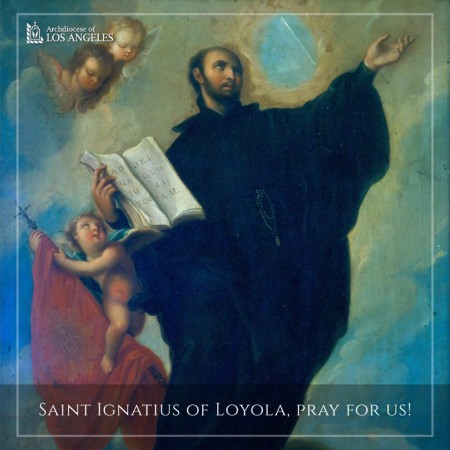 Saint Ignatius of Loyola (1491-1556) Image: Archbishop Jose Gomez
(CNA) Born into a noble family on Christmas Eve in Spain Guipuzcoa, Ignatius served as a Page in the Spanish Court of Ferdinand and Isabella, later becoming a Soldier in the Spanish Army where he would become wounded during the 'Siege of Pamplona' in 1521
During Ignatius' recovery he would read about the 'Lives of the Saint's' and this experience led him to undergo a profound conversion which led him to dedicate his life to Catholicism.
After making a general confession in a Monastery in Montserrat, Ignatius proceeded to spend almost the entirety of the year in solitude and prayer, during which time he would write his famous Spiritual Exercises following which he would make a pilgrimage to Rome and the Holy Land where he worked to convert Muslims to Christianity but could not remain as he had planned according to Franciscan Media because of the hostility of the Turks.
Ignatius would spend the next 11 years in various European universities, finally returning to Spain and then France where he would receive his degree in Theology — While many held him in contempt because of his Holy lifestyle, Ignatius' wisdom and virtue attracted some followers and 'The Society of Jesus' (The Company of Jesus) was born.
In 1540 the 'Society of Jesus' received approval by Pope Paul III and it grew rapidly, Ignatius was elected to serve as its first General and became friends with St. Philip Neri (Feast Day: 26 May) During this time despite all that he had to do in the 'Society' Ignatius still found time to find homes for Orphans, Catechumens and Penitents. — Ignatius founded the 'Roman College' intended to be a model of all other colleges of the 'Society of Jesus.'
Ignatius' final years were spent in partial retirement according to EWTN the correspondence inevitable in governing the 'Society of Jesus' left him with no time for active ministry which in themselves he much preferred. Ignatius health began failing in his latter years and he was nearly blind by 1556 at the time of his death.
Saint Ignatius of Loyola was Beatified in 1609 by Pope Paul V and Canonized in 1622 by Pope Gregory XV
On the 22 April, 2006 Pope Emeritus Benedict XVI presided over a Eucharistic Celebration for the 'Society of Jesus' addressing the Fathers & Brothers of the Society present at the Vatican Basilica , calling to mind the dedication and fidelity of their founder saying:

"Saint Ignatius of Loyola was first and foremost a man of God who in his life put God, his greatest glory and his greatest service first. He was a profoundly prayerful man for whom the daily celebration of the Eucharist was the heart and crowning point of his day.

Thus he left his followers a precious spiritual legacy that must not be lost or forgotten. Precisely because he was a man of God, St. Ignatius  was a faithful servant of the Church, in which he saw and venerated the Bride of the Lord and the Mother of Christians and the special vow of obedience to the Pope which he himself describes as 'our first and principal foundation' was born from his desire to serve the Church in the most beneficial way possible."
Today the Jesuits (The Company of Jesus) have more than 500 universities and colleges together with more than 30,000 members that teach more than 200,000 students annually.
More here from American Catholic
Related: Pope Francis Homily on the Feast of St. Ignatius of Loyola

Tweet