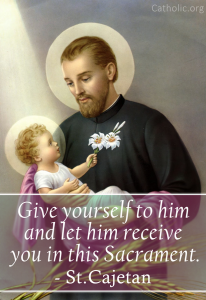 Saint Cajetan (1480-1557)
Image Courtesy: Catholic Online
(EWTN) Born in Italy Vicenza, Cajetan family were of Venetian nobility and under the care of his deeply religious mother he was a studious and exemplary youth. As a young man, he studied law in Padua according to SQPN earning his law degree by the age of 24 becoming a Prothonotary Apostolic in the Court of Julius II, taking an important share in reconciling the Republic of Venice with the Pope.
Upon the death of Julius II in 1513, Cajetan withdrew from the Court and is credited with the founding shortly thereafter the Theatine Order to foster the Church mission, together with reviving the spirit and zeal of the Clergy in Rome, which spread to other communities. Though remarkable because of Cajetan love of God, he didn't enter the Priesthood himself  until 1516
Recalled to Vicenza in the following year due to the death of his beloved mother, he subsequently founded there a hospital for the terminally ill, thus giving proof of the active charity that filled his life. — Fr. Cajetan passion was however more moved by spiritual diseases that plagued mankind and infected the Clergy of all ranks and like Saint Augustine (Feast Day: 27 May) in earlier times, he was diligent to help reform them by instituting a body of regular Clergy who should combine the spirit of monasticism with the exercises of the active ministry.
Returning to Rome in 1523 Fr. Cajetan laid the foundations of his new congregation which was Canonically erected by Pope Clement VII in 1524 — One of Fr. Cajetan four companions was Giovanni Pietro Caraffa, Bishop of Chieti — later Pope Paul VI — They managed to escape to Venice after their house in Rome was wrecked when Emperor Charles V's troops sacked Rome in 1527 The Theatines were outstanding among the Catholic reform movements that took shape before the Protestant Reformation.
Fr. Cajetan likewise founded a 'Monte de Pieta' (a bank to help the poor and offer an alternative to Loan Sharks) in Naples, one of the many charitable, non-profit credit organizations that loaned money on the security of pawned objects, which later became the Bank of Naples.
In 1547 Fr. Cajetan passed away in Naples — In 1629 he was Beatified by Pope Urban VIII and Canonized in 1671 by Pope Clement X

More here from American Catholic
Tweet