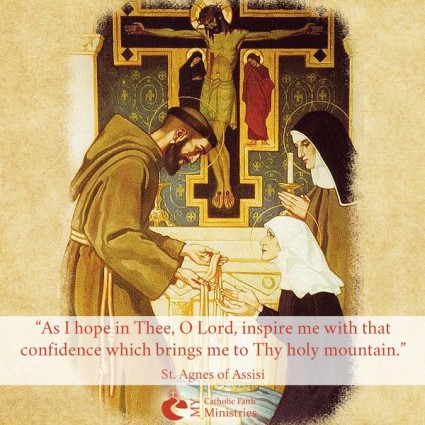 St. Agnes of Assisi Pray for Us That We May Also Have
The Gift of Great Faith —My Catholic Faith Ministries
(Franciscan Media) Born in Italy Assisi, Saint Agnes was the sister of Saint Clare of Assisi — Founder of Poor Clare Sisters (Feast Day: 11 August) and her first followers.
When Agnes left home two weeks after her sister Clare departed, her family attempted to bring Agnes back by force. — The attempted to drag her out of the Monastery but all of a sudden, her body became so heavy that several Knights could not budge it. Agnes' uncle Monaldo attempted to strike/hit her but found himself temporarily paralyzed. The Knights subsequently left both Agnes and Clare in peace.
Agnes matched her sister Clare devotion to prayer and penance which characterized their lives at St. Damiano — In 1221 a group of Benedictine Nuns of Monticelli (near Florence) would ask to become Poor Clare Sisters  – Clare would send her her Sister Agnes to become Abbess of that Monastery, Agnes would subsequently write a rather sad letter, describing how much she missed her Sister Clare and the other Nuns at St. Damiano. After establishing other 'Poor Clare Monasteries' in Italy, Agnes was recalled to St. Damiano in 1253 when her Sister Clare was dying. — Agnes followed Clare in death just 3 months later and was Canonized in 1753 by Pope Benedict XIV
More here from American Catholic
Tweet