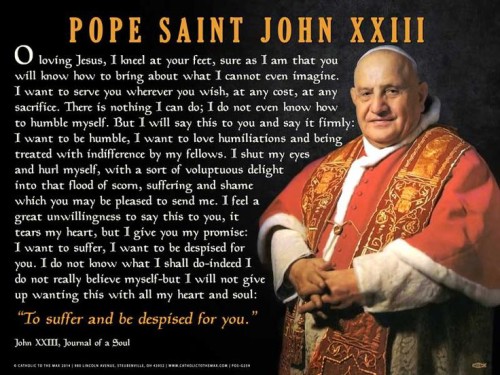 Pope Saint John XXIII (1881-1963) Image Courtesy: Pinterest
(CNA) Born Angelo Giusppo Roncalli in Italy Sotto il Monte, Angelo was the 4th child of 14 of a peasant but deeply religious family–Angelo's Christian education was entrusted to his Godfather, who instilled into young Angelo a deep love and admiration of the mystery of God.
Angelo would enter the minor seminary at the age of 11 and became a 'Secular Franciscan' just 4 yrs later. By the age of 20, Angelo would enter the 'Pontifical Roman Seminary' and was Ordained into the Priesthood just 3 years later, subsequently he was appointed Secy to the Bishop of Bergamo and would teach in the Seminary. — Angelo's great friends during this formative period were St. Charles Borromeo and St. Francis de Sales two outstanding intellectuals and also formidable pastors.
Fr. Angelo served as a military Chaplain during WW I following the war he would serve as a spiritual director at a Seminary and in 1921 served as the Italian President of the 'Society for the Propagation of the Faith' — In 1925, Pope Pius XI made him a Bishop and sent him to Bulgaria as the 'Apostolic Visitator' in 1935 he was assigned to Turkey and Greece where he would minister to Catholics and engaged in dialogue with Orthodox Christianity and Muslims.
During WW II Bishop Angelo Roncalli used his diplomatic skills to save as many Jews as he could by obtaining safe passage for them. Following WW II he was made Cardinal in 1953 and Patriarch  of Italy Venice, three day later–In  1958 he was elected the 261st Pope following the death of Pope Pius XII
As Pope John XXIII he stressed his own 'pastoral duties' and became an example of a 'Pastoral Pope' a Good Shepherd who cared deeply for people. — Pope John XXIII manifested this concern in his social encyclicals, especially "Pacem in Terris" (On Peace in the World) Pope John XXIII greatest act however was undoubtedly the inspiration to convoke the 'Second Vatican Council' which he opened on this date in 1962
 Pope John XXIII spirit of humble simplicity, profound goodness and deep life of prayer, radiated in all that he did and inspired people to affectionately call him "Good Pope John."
In 1963 "Good Pope John" passed away of stomach cancer according to SQPN — Pope John XXIII was Beatified in 2000 by Pope Saint John Paul II and Canonized in 2014 by Pope Francis, alongside the man who Beatified him Pope Saint John Paul II
More here from American Catholic and here from EWTN
Tweet