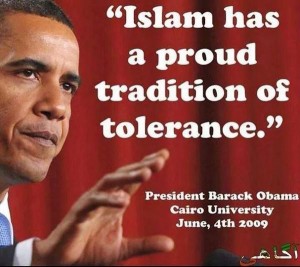 (White House.gov) BHO: "So Let There Be No Doubt, Islam is Part of America–Islam has a Proud Tradition of Tolerance"
(FOX News) Islamic Jihadists dressed in black, storm the Paris offices of a 'Charlie Hebdo' a satirical newspaper known for lampooning the false prophet Mohammed, massacring 12 and injuring as many as 15 others before escaping–as many as three Jihadists were being sought following the 11:30 AM terrorist attack.
Charlie Hebdo publisher of marauding Muslim cartoons recently Tweeted a cartoon of ISIS Terrorist Thug Abu Bakr al-Baghdadi.
Two policemen, several journalists, including the cartoonist behind the weekly publication's satirical images were among the dead.
"We've avenged the honor of the Prophet," the Islamic Jihad Fascists shouted according to witnesses.
Related: Paris Policeman Shot in Head –Harrowing Video –Sky News
Anti-Islam Parties are Now on March Across Europe –The Telegraph
Tweet