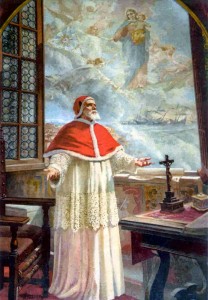 Pope Saint Pius V (1504-1572)
Image: Luisa Piccarreta
(EWTN) Born Michael Ghislieri in Italy Alessandria in 1504 into an impoverished family despite their distinguished past, Michael the future Pope Saint Pius V was instructed by members of the Dominican Order, choosing to join them at the age of 14 after a decade of study in theology and philosophy, he was Ordained a Priest becoming known according to Catholic News Agency for his solemn penances. his long hours of prayer, fasting and the Holiness of his speech.
Fr. Michael Ghislieri was elected Bishop of Sutri in 1556 and one year later Cardinal, he became known in this capacity as an able yet unflinching man who rigorously fought heresy and corruption wherever he found it. In 1566 he was elected Pope and took the name Pius V.

A defender of Catholic doctrine and Christian civilization during the tumultuous 16th century, this Dominican Pope is remembered for implementing steps to stop the spread of militant Islam, bringing together both Spanish and Italian Naval forces including those of the Papal States. Seriously outnumbered, Pope Pius V requested that each Sailor and all of Europe to pray the Rosary and receive Communion. During this same time, Pope Pius V Ordered a 40 hour devotion in Rome during which time the battle took place–The Christian 'Holy League' vastly outnumbered, won a dramatic and decisive battle against the Muslims, destroying their entire fleet in 1571

Pope Pius V was charged with the task of implementing sweeping reforms according to Franciscan Media which included: Ordering the founding of seminaries for the proper training of Priests; Publishing a new Missal together with a new Breviary; a new Catechism and established the new 'Confraternity of Christian Doctrine' classes for the young. Pope Pius V likewise zealously enforced legislation against abuses in the Church and patiently served the sick and poor by overseeing the construction of hospitals, providing food for the hungry and giving money customarily used for Papal banquets to poor converts–Pius V decision to continue wearing the white Dominican habit led to the custom of the Pope wearing a white cassock which continues to this day.
In striving to reform both Church and State, Pope Pius V encountered vehement opposition from England's Queen Elizabeth and the Roman Emperor Maximilian II
Pope Pius V in 1572 was working toward a new and broader alliance of Western Christian powers against expansionist Islamic Jihad, unfortunately for civilization he didn't live long enough to see this through, becoming ill and died on the 01 May uttering:
"O Lord, increase my sufferings and my patience." 
Pope Pius V was Beatified by Pope Clement X in 1672 and was Canonized by Pope Clement XI in 1712 — Since that time only two other Pope's Saint Pius X in 1954 and John Paul II in 2014 have been declared a Saint.
More here from American Catholic
Tweet