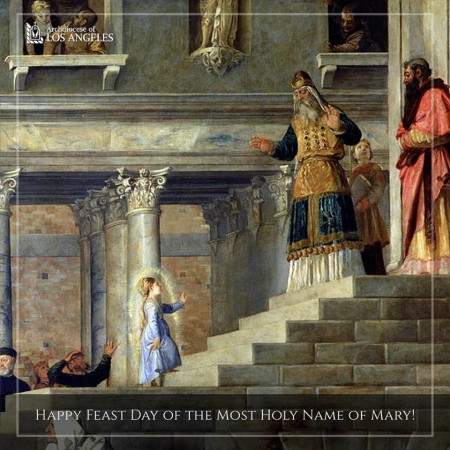 Most Holy Name of the Blessed Virgin Mary
Image Courtesy: Archbishop Jose Gomez
(Franciscan Media) Today's Feast is a counterpart to the Feast of the Most Holy Name of Jesus (Feast Day: 03 January) both have the possibility of reconciling people too easily divided.
The 'Feast of the Most Holy Name of Mary' began in Spain 1513 and by 1671 was extended to all of Spain and the Kingdom of Naples.
In 1683 King John Sobieski III of Poland (1629-1696) brought an Army to the outskirts of Vienna to stop the advance of Muslim armies, loyal to Mohamed in Constantinople — After King Sobieski entrusted himself to Our 'Blessed Virgin Mary Mother of God' he and his Soldiers thoroughly defeated the Muslims (an invaluable lesson that Americans should heed today –I digress)
Pope Innocent IV extended this Feast to the entire Church as a perpetual memorial of the great blessing won by Christians at Vienna.
More here from Our Lady of the Rosary
Tweet