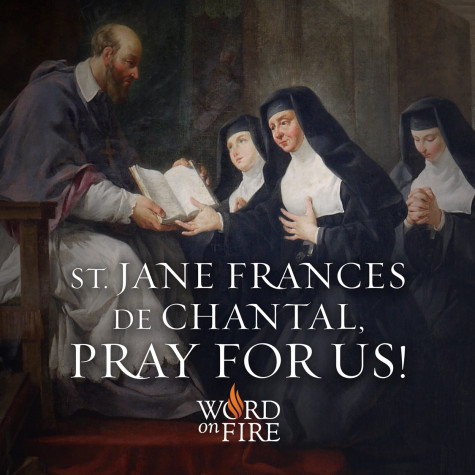 St. Jane Frances de Chantal  (1562-1641) –Image: Fr. Robert Barron
(Franciscan Media) Born in France Dijon, Jane Frances was a wife, mother, Nun and co-founder of The Order of the Visitation of Holy Mary (now Sisters of the Visitation of Holy Mary) in 1610 in France (Savoy) Annecy,  "To give to God daughters of prayer and souls so interior that they may be found worthy to serve His infinite Majesty and to adore Him in spirit and in truth." –St. Francis de Sales
Jane Frances' mother passed away when Jane was just 18 mo old, her father head of the French Parliament became the main influence on her education. — Over the years, Jane developed into a beautiful young Woman of refinement, lively and cheerful in temperament that by the age of 21 she married Baron de Chantel, with who she had six children (three of which died in infancy) at the castle at Bourbilly where they lived, Jane restored order to the household according to EWTN which was on the brink of ruin, bringing back prosperity.
During Baron de Chantel's absence at the Court or with the Army, when reproached for her extremely sober manner of dress, Jane replied: "The eyes  which I must please are a hundred miles from here." Jane found more than once that God blessed with miracles the care that she gave the suffering member of Christ.
Baron de Chantel was accidentally killed by an arquebus (an early type portable gun supported on a tripod) in 1601 — Left widowed at just 28 with 4 children, the broken-hearted baroness took a vow of chastity. In all of her prayers, she sought God to send her a guide. Subsequently God in a vision showed her the spiritual director He held in reserve for her. In order to safe guard her children's property, she was obliged to go live at Monthelon, in the home of her father-in-law who was ruled over by an arrogant and wicked servant. This was real servitude which she bore patiently and gently for 7 years when at last, her virtue triumphed over the ill will of the old man and house keeper.
During Lent 1604 Jane visited her father at Dijon, where Francis de Sales (Feast Day: 24 January) was preaching at the Sainte Chappelle, she immediately recognized him as the mysterious director which had been shown to her in a vision–then began an admirable correspondence between the two future Saints.
Jane told Franci's of her desire to become a Nun but he however persuaded her to defer her decision–Subsequently after three years, he told Jane of his plan to found an institute of Women, which would be a haven for those whose health, age or other considerations barred them from entering the already established communities. There would be no cloister (seclusion from the world) and they would be free to undertake spiritual and corporal works of mercy. They were primarily intended to exemplify the 'Virtues of Mary at the Visitation' (hence the name Visitation of Holy Mary) humility and meekness.
The usual opposition of Women in active ministry arose and Frances de Sales was obliged to make it a cloistered community following the Rule of St Augustine — Francis wrote his famous Treatise on the Love of God for them.
The congregation (three Women) began when Jane Frances was now age 45 she underwent great sufferings: Francis de Sales died in 1622; her son was killed; a plague ravaged France; her daughter-in-law and a son-in-law died; Jane encouraged the local authorities to make great efforts for the victims of the plague and she would put all of her Convent's resources at the disposal for the sick.
During a part of Jane Frances' religious life, she underwent great trial of the spirit–interior anguish, darkness and spiritual dryness. Jane passed away while on a visitation of Convents of the community in France Moulins.
Jane Frances was Beatified in 1751 by Pope Benedict XIV and Canonized in 1767 by Pope Clement XIII
More here from American Catholic
Tweet