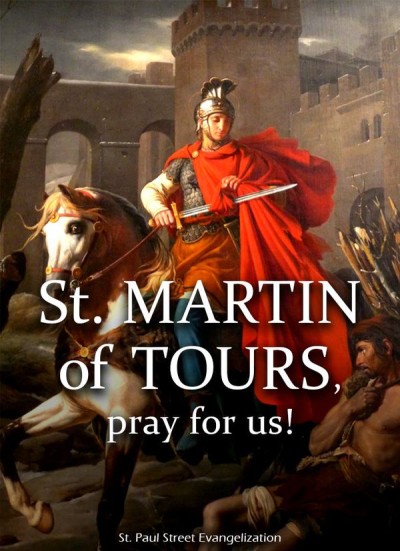 St. Martin of Tours (316-397) Image: St. Paul Street Evangelization
(EWTN) Saint Martin called 'The Glory of Gaul' was born in Hungary Savaria to Pagan parents. Martin's father was an Officer in the Roman Army who had risen up through the ranks. While Martin was still a child, his father was transferred to a new duty station in Italy Pavia, here Martin learned about Christianity, feeling drawn to it he became a convert to Christianity.
As the son of a Veteran, at the age of 15 Martin was obligated to begin service in the Army, though never shirking his military duty, he is said to have lived more like a Monk than a Soldier. Martin was stationed in Gaul (European region today known as the areas of France, Belgium and Southern Netherlands) when the incident occurred which tradition and art work have rendered him famous.
As Martin rode toward the town of Amiens one Winter's day, he noticed near the gates a poor man, thinly clothed, shivering in the cold and begging for charity. Martin saw that none who had passed this Beggar had stopped to help him. While Martin had nothing with him but the clothes he wore to help the miserable Beggar, Martin drew the sword from his scabbard, cutting his woolen cloak into two pieces, giving one half to the Beggar and he wrapped the other half around himself.


The following night the story continues, Martin in his sleep, saw Jesus Christ surrounded by Angels and dressed in the half of the cloak that he had given away to the Beggar. A voice would bid Martin to look at it well and say whether he recognized it? Martin then heard Jesus say to His Angels: "Martin as yet only a Catechumen has covered me with his cloak."

Martin's friend and biographer Sulpicius Severus said, that as a consequence of this vision, Martin "flew to be Baptized."
At the age of 23 Martin would refuse a 'War Bonus' according to Franciscan Media and told the Emperor Juilan his Commander-in-Chief: "I have served you as a Soldier, now let me serve Christ. Give the bounty to those who are going to fight but I am a Soldier of Christ and it is not lawful for me to fight."
Julian was angered and accused Martin of cowardice according to EWTN however Martin told Juilan that he was ready to go into battle the next day, unarmed and would advance alone against the enemy in the name of Christ — Julian had him taken off to prison but discharged Martin soon after a truce had been made.
Subsequent to Martin's discharge from the Army, he would depart to be a disciple of St. Hilary Bishop of Poitiers (Feast Day: 13 January) Bishop Hilary gladly received Martin and Ordained him a Deacon.
Martin would work with great zeal against the Arians according to Franciscan Media and subsequently became a Monk, living first at Milan and later on a small island of Gallinara — When Bishop Hilary was restored to his See after being exiled, Martin went to France and established what may have been the first Monastery, living there for 10 years, forming his disciples and ministering throughout the countryside.
The people of France Tours would demand that Martin become their Bishop–he had been drawn to the City of Tours as a ruse, to minister to the needs of a sick person and was brought to the Church where he reluctantly allowed himself to be consecrated Bishop. Some of the consecrating Bishops thought his rumpled appearance and unkempt hair indicated that he was not dignified enough for the office.
Along with Saint Ambrose (Feast Day: 07 December) Bishop Martin rejected Bishop Ithacius' principle of putting heretics to death, as well as the intrusion of the Emperor into such matters. — Bishop Martin prevailed upon the Emperor to spare the life of the heretic Priscillian for his efforts, Bishop Martin was then accused of the same heresy and Priscillian was executed. Bishop Martin subsequently would plead for the cessation of the persecution of Priscillian's followers.
Bishop Martin passed away on the 08 November, 397 in France Candes and three days later was buried at Tours–Some 2,000 Monks and Nuns attended his funeral. Bishop Martin's successor would build a Chapel over his grave which was later replaced by a fine Basilica.
More here from American Catholic and here from SQPN
Tweet