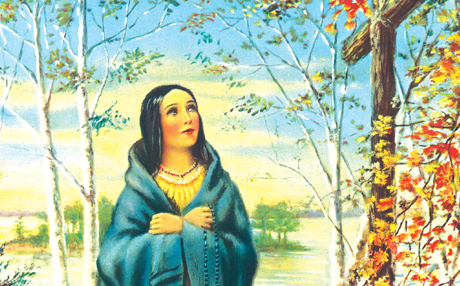 St. Kateri Tekakwitha (1656-1680)
Image: Diocese of Saint Jean Longueuil
(CNA) Born at Osserneon (New York, Auriesville) Kateri mother was a Christian (she had been abducted by the Iroquois) her biological father was a Pagan Mohawk Chief. — Kateri was orphaned at an early age when a smallpox epidemic infected the tribe which left permanent scars on Kateri's face and impaired her vision.
In 1667 when three Jesuit Priests visited the Mohawk Indian tribe, Kateri converted and was Baptized by Fr. Jacques de Lamberville according to SQPN — Kateri struggled to maintain her Christian faith amidst opposition of the Mohawk Indian tribe, they would subsequently ostracize her for refusing the arranged marriage.
The life of the Mohawk's had become violent and debauchery was commonplace, realizing this was much too dangerous to Kateri life and to her personal vow of perpetual chastity, she escaped to the town of Caughnawaga in Quebec, where she would grow in Holiness and devotion to the Blessed Sacrament.
Kateri lived out the final years of her short life in Quebec, practicing austere penance and constant prayers. — It is said that Kateri reached the highest levels of mystical union with God and many miracles were attributed to her during her brief life of 24 years.
At the time of Kateri death, witnesses reported that her smallpox scars that she carried for much of her life vanished and her face shone with radiant beauty.
Kateri was Beatified in 1980 by Pope Saint John Paul II and she was Canonized in 2012 by Pope Emeritus Benedict XVI
More here from the Natl Kateri Tekakwitha Shrine, Fonda, NY
Tweet