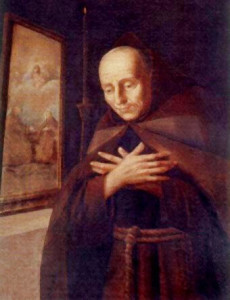 Saint Giles Mary of St. Joseph
Image: All Saints & Martyrs
(Franciscan Media) In the same year that a power hungry Napoleon Bonaparte led his Army into Russia, Brother (Francesco) Giles Mary of St. Joseph, ended a life of humble service to the Franciscan community and to the citizens of Italy Naples.
Francesco was born in Italy Taranto to very poor parents and as a child according to All Saints & Martyrs (Francesco) Giles Mary had learned rope making and was very good at his trade–his father's death when he was 18 necessitated him to care for his family.
After securing their future, Brother (Francesco) Giles Mary, entered the 'Friars Minor at Galastone' in 1754 and for 53 years, he served in various roles at St. Paschal Hospice in Naples.
"Love God, Love God" was Brother Giles Mary characteristic phrase as he gathered food for the Friars and shared some of his bounty with the poor–all the while consoling the troubled and urging everyone he met to repent. The charity which Brother Giles Mary reflected on the streets of Naples, was born in prayer and nurtured in the common life of the Friars.
The people that Brother Giles Mary met during his rounds earned his the nickname: 'Consoler of Naples' — Following his life of faithfulness to God, he was declared 'Blessed' by Pope Pius IX in 1888 and Canonized on the 02 June, 1996 by Pope Saint John Paul II
Tweet