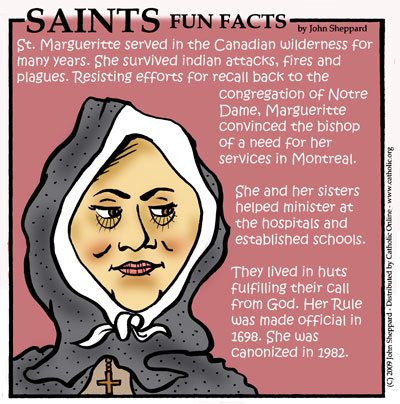 St. Marguerite Bourgeoys (1620-1700) Image Courtesy: Catholic Online
(Vatican) Marguerite, born the 6th of 12 children in France Troyes, she lost her Mother when she was just 19 yrs old.
The following year in a course of a procession held on the 07 October in honor of Our Lady of the Rosary, Marguerite had an unforgettable experience–her eyes resting on a statue of the Blessed Virgin, at that moment, she felt inspired to withdraw from the world and to consecrate herself to the service of God and with that unchanging fidelity to what she believed God's will to be for her, an allegiance that characterized her life thenceforth, she set about to discern her vocation.
Marguerite registerd at once as a Member of the 'Congregation of Troyes' an association of young ladies devoted to the charitable work of teaching children in the poor districts of the town. While still engaged in this, she learned about the foundation of 'Ville Marie' (present day Montreal) in 1642 and at that time, believed it was a first call to missionary life.
This calling was rendered concrete in 1652 when she was introduced to Monsieur de Maisonneve, founder and Governor of the French settlement who was in search of someone who would volunteer her services for the gratuitous instruction of the French-Indian children, according to Franciscan Media when Marguerite arrived, the colony numbered 200 with a hospital and Jesuit Mission Chapel.
Soon after starting the school, Marguerite realized her need for co-workers, returning to France Troyes, she recruited a friend–Catherine Crolo and two other young Women. In 1667 they added classes at their school. A second trip back to France three years later, resulted in 6 more young Women and a Letter form King Louis XIV, authorizing the school–the Congregation of Notre Dame was established in 1676
Marguerite established a school for Indian girls in Montreal–At the age of 69, she walked from Montreal to Quebec, in response to the Bishop's request to establish a community of her Sister's in that city.
At the time she passed away (12 January, 1700) Marguerite was referred to as the 'Mother of the Colony' acknowledged for her holiness.
The educative and apostolic effort of Marguerite Bourgeoys, continues through the commitment of the members of the community that she founded–More than 2,600 Sisters of the 'Congregation de Notre Dame' work in fields of action, according to the needs of time and place — from school, to college or university, in the promotion of the family, parish and diocesan endeavors, they're on mission in Canada, the United States, Japan, Latin America, Cameroon and most recently, they have established a house in France.
On the 12 November, 1950 Pope Pius XII beatified Marguerite, she was Canonized by Pope John Paul II on the 31 October, 1982 giving the Canadian Church, its first Woman Saint.
Related: Marguerite Bourgeoys Museum, Montreal Canada
Tweet