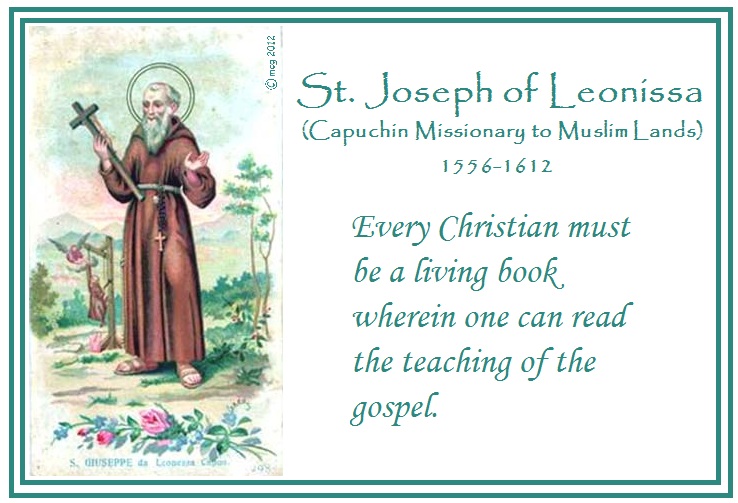 Saint Joseph of Leonissa –Image Courtesy: Mary Gilder Sleeve.com
(CNA) Joesph of Italy Leonassa, Umbria was the 3rd of 8 children at Baptism, he was given the name 'Eufrano' –From infancy he showed a remarkably religious bent of mind, writes EWTN erecting little alters and spending much time in prayer, often he would gather his companions and got them to pray with him.
Impressed by the example of Matthew Silvestri, who had left the medical profession to embrace the Capuchin life and whose holiness was evident, Eufrano was inspired to become a Capuchin. After overcoming family opposition, Eufrano was admitted to the religious order and received the habit and the name "Joseph" making a profession on the 08 January, 1573

On the 21 May, 1581 the Capuchin General Vicar issued patents for preaching, the ministry Joseph would be engaged for the remainder of his life.
In 1587, Joseph was sent to Constantinople (modern day Turkey, Istanbul) to minister to the Christians held captive there, writes Capuchin Franciscan Friars upon arriving, Joseph and his companions lodged in a derelict house of Benedictine Monks. The poverty which the Friars lived, attracted the attention of the Turks, who went in numbers to see the new missionaries. Joseph was very caring in his ministry to the captive Christians in the galleys–Each day he went into the city to preach and subsequently was thrown into prison, he was only released at the intervention of the Italy Venice agent.
Warned not to resume his work, he did and was again imprisoned writes Franciscan Media subsequently was condemned to death. Miraculously freed, Joseph returned to Italy, where he ministered to the poor, reconciled feuding families and warring cities that had been at odds for years.
Joseph was beatified by Pope Clement XII in 1737 and on the 29 June, 1746 was canonized by Pope Benedict XIV
Tweet