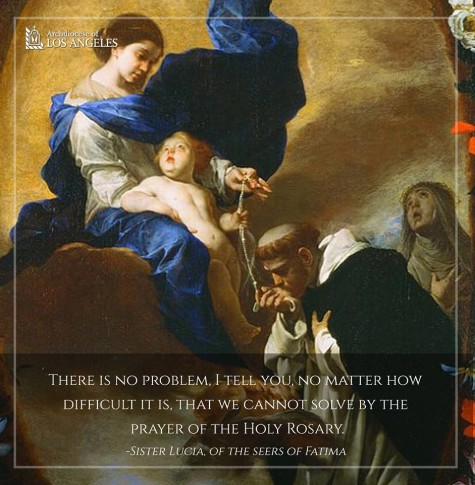 Happy Feast Day of Our Lady of the Holy Rosary
Image: Archbishop Jose Gomez
(CNA) On this date the Church celebrates the annual Feast of 'Our Lady of the Holy Rosary' in honor of the 16th century naval victory which secured Europe against a militant Islamic invasion — Pope Saint Pius V attributed the victory to the Intercession of the Blessed Virgin Mary, who was invoked on the day of the battle through a campaign to pray the Rosary and receive Communion throughout Europe.
Sailors on more than 200 ships prayed the Rosary and received Communion in preparation for the battle.

Some accounts say that Pope Pius V was granted a miraculous vision of the 'Holy League's' stunning victory. Without a doubt, Pope Pius V understood the significance of the day's events. Vastly outnumbered the 'Holy League' won a dramatic and decisive battle against the Muslims destroying their entire fleet in 1571

Pope Leo XIII was particularly devoted to 'Our Lady of the Rosary' producing 11 Encyclicals on the subject of this Feast and its importance in the course of his long Pontificate.
The purpose of the 'Holy Rosary' is to help meditate on the great mysteries of Our Salvation. Pope Pius XII called it a compendium of the Gospel. The main focus is on Jesus–his birth, life, death and resurrection. — The 'Our Fathers' reminds us that Jesus' Father is the initiator of Our Salvation; The 'Hail Mary's' reminds us to join Mary in contemplating these mysteries. They also make us aware that Mary was and is intimately joined with her Son in all of the mysteries of His earthly and heavenly existence; The 'Glory Be's' reminds us that the purpose of all life is the glory of the Holy Trinity.
The 'Holy Rosary' appeals to many, it is simple–the continually repetition of words helps create an atmosphere in which to contemplate the mysteries of God. We sense that Jesus and Mary are with us in the joys and sorrows of life. We grow in hope that God will bring us to share in the glory of Jesus and Mary forever.
More here from American Catholic and here from USCCB
Tweet