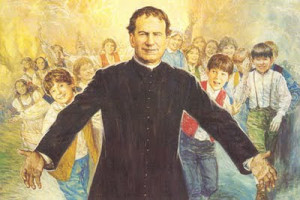 Saint John Bosco (1815-1888)
Images: Fr. Broom' Blog
(EWTN) "In his life the supernatural became the natural and the extraordinary the ordinary," said Pope Pius XI of the Beloved John Bosco, renowned for his educational pioneering and his affectionate care for the fatherless.
Born in 1815, Giovanni Melchoir Bosco, this future Saint was the youngest son of a peasant farmer in the hamlet of Italy, Becchi — At the age of 2 his father passed away and he was brought up by a devoted and industrious mother, Margaret who was challenged maintaining the home and three children, all of them boys.
A dream of young Giovanni had at the age of 9 revealed to him his vocation in life, he seemed to be surrounded by a mob of fighting children using bad words that he tried in vain to pacify at first by arguments and then by hitting them–Suddenly there appeared a mysterious Woman who said:
"Softly, softly…If you wish to win them. Take your shepherd's staff and lead them to the pasture." Even as she spoke, the children were transformed first into wild beasts and then into gentle lambs. From that time on, Giovanni thought, it was his clear duty to lead and help other boys.
Giovanni (John) was ordained in 1841 his service began in his own village to young people started when he met a poor orphan and instructed him in preparation for receiving Holy Communion, he subsequently gathered young apprentices and taught them the Catechism and brought them Church.
A story is told, that one Sunday morning, John found local children mesmerized by a traveling juggler and gymnast by his performance, John challenged him to a competition and beat him at his own tricks–then he marched off to Church with his admiring audience.
After serving as an Assistant Chaplain in a hospice for girls, this post left John free on Sunday's to devote himself to a group of boys according to Franciscan Media subsequently founding the 'Oratory of St. Francis de Sales for Boys' which several wealthy and powerful patrons contributed money, enabling him to provide two workshops for the boys–shoe making and tailoring.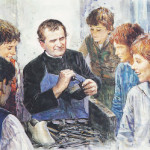 By 1856 the institution had grown to 150 boys and had added a printing press for publication of Christian and catechetical pamphlets. John's interest in vocational education and publishing, justifies him as the Patron of young apprentices and publishers.
John's ministerial fame spread, he had trained his own helpers because of difficulties in retaining young Priest's.
With Pope Pius IX encouragement, John gathered 17 men and founded the Salesians in 1859 their activity focused on education and mission work–Later he would organize a group of Salesian Sisters to assist young Women.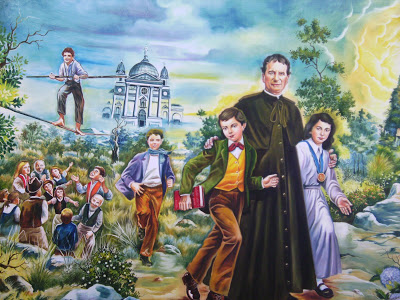 More here from Catholic Online

Tweet