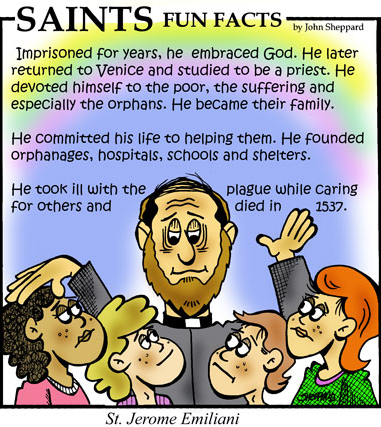 Saint Jerome Emiliani (1481-1537) Image Courtesy: Catholic Online
(Vatican) The life of Jerome Emiliani, a layman from Italy Venice, was at it were 'refounded' on the night of the 27th September, 1511 when after making a sincere vow to 'Our Lady of Treviso' to change his behavior, through the intercession of the 'Mother of God' he found himself freed from the chains of prison, which he later presented at the alter of the Virgin Mary.
A careless and irreligious soldier in his earlier days in Venice, writes Franciscan Media Jerome had been captured in a skirmish at an outpost town and chained in a dungeon. While in prison, Jerome had lots of time to think and reflect on his past and he gradually learned to pray. When he was finally freed of his chains, Jerome returned to Venice, where he took charge of the education of his nephews and began studying for the priesthood.
In the years following Jerome's ordination, events again called him to a decision and a new lifestyle.
Plague and famine swept through Northern Italy and Fr.Jerome began caring for the sick and feeding the hungry at his own expense. While serving those less fortunate, he soon resolved to devote himself together with his possessions to others–particularly, abandoned and unwanted children.
Fr. Jerome founded three Orphanages, a shelter for penitent prostitutes and a hospital. Around 1532, Jerome and two other Priests, established a congregation the 'Clerks Regular of Somasca' (present day) Somascan Fathers dedicated to care for Orphans and the education of youth.
In February 1537 Fr.Jerome fell a martyr to his zeal writes EWTN contracting a disease at Bergamo and passed away at Somascha — Beatified by Pope Benedict XIV in 1747 Jerome was Canonized by Pope Clement XIII in 1767
In 1928 Pope Pius XI named Saint Jerome Emiliani, Patron of Orphans and Abandoned Children.
Tweet