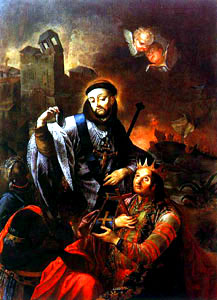 Saint Francis Solano (1549-1610)
Image: Third Order of St. Francis
(Franciscan Media) Born in Spain Montilla, Francis was the son of Andalusian leading nobles Matthew Sanchez-Solanus and Anna Ximenes. — Perhaps it was Francis' popularity as a youth to stop two duelists?
Francis entered the 'Friars Minor' in 1570 and after his Ordination, he enthusiastically sacrificed of himself to others. –Fr. Francis Solano care for the sick during an epidemic of the plague in Granada in 1583 according to SQPN (which he himself contracted and recovered) drew so much admiration, that he became embarrassed and asked to be sent to the African Missions, instead he was sent to South America in 1589
While working as a missionary traveling throughout South America (mainly Argentina, Bolivia Paraguay) Fr. Francis Solano quickly learned the local languages and was well received by the native populations — Fr. Francis Solano visits to the sick would often include playing a musical number on his violin.
Around 1601 Fr. Francis Solano was called to Peru Lima, where he attempted to recall the Spanish Colonists to their Baptismal integrity and worked to defend the native Peruvians from oppression. Fr. Francis Solano subsequently died there less than a decade later in 1610 of natural causes.
Fr. Francis Solano was Beatified in 1675 by Pope  Clement X and Canonized in 1726 by Pope Benedict XIII

More here from American Catholic and here from Franciscan Institute
Tweet