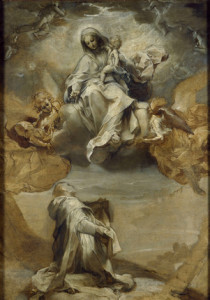 Saint Dominic de Guzman
Image: Ashmolean Museum
(CNA) Born in Spain Caleruega, Dominic was born into wealthy nobility his parents Felix Guzman and Joanna of Aza (his mother was Beatified in 1828 by Pope Leo XII) as would his brother Mannes (in 1834 by Pope Gregory XVI) who would become a Dominican — Antonio, Dominic's eldest brother would also become a Priest.
Dominic received his early education from his uncle who was a Priest before entering the University of Palencia where he studied for 10 yrs. In one notable incident from this period, Dominic sold his entire collection of rare books to provide relief for the poor in the city.
Following Dominic's Ordination into the Priesthood, he was asked by Bishop Diego of Osma, to participate in local Church reforms. — Fr. Dominic de Guzman spent 9 yrs in Osma, pursuing a life of intense prayer before being called to accompany the Bishop on business for King Alfonso IX of Castile in 1203
While traveling to France with the Bishop, Fr. Dominic de Guzman began to think about founding a new religious order to promote the truth. In 1204 he and Bishop Diego, were sent by Pope Innocent III to assist in the effort against the Albigensian's which eventually involved both military force and theological persuasion. 
In France, Fr. Dominic de Guzman engaged in doctrinal debates and established a Convent whose rule would eventually become a template for the life of Dominican Women, Fr. Dominic de Guzman continued his preaching mission from 1208-1215 during the intensification  of the military campaign against the Albigensian's.

In 1214  Fr. Dominic de Guzman extreme physical asceticism (self-discipline; abstinence) caused him to fall into a coma, during which the Virgin Mary is said to have appeared to him and instructed him to promote the prayer of the Rosary. Its focus on the Incarnation and Life of Christ directly countered the Albigensian attitude towards matters as evil.
During that same year, Fr. Dominic de Guzman returned to Tolouse and obtained the Bishop's approval of his plan for an order dedicated to preaching. Fr. Dominic de Guzman and a group, gained local recognition as a religious congregation and he accompanied Tolouse Bishop to Rome for an Ecumenical Council in 1215
The Council stressed the Church's need for better preaching but also set up a barrier to the institution  of new religious orders. Fr. Dominic de Guzman obtained Papal approval of his plan in 1216 and was named as the Pope's Theologian. — The Order of Preachers expanded in Europe with Papal help in 1218
Fr. Dominic de Guzman spent the last several years of his life building up 'The Order of Preachers' while continuing his preaching missions, which it is said it had converted some 100,000 people.
Subsequently following several weeks of illness, Fr. Dominic de Guzman passed away in August 1221 in Italy Bologna and was Canonized in 1234 by Pope Gregory IX

In 2010 Pope Emeritus Benedict XVI said: "This great Saint reminds us that in the heart of the Church a missionary fire must always burn. It must be a constant incentive to make the first proclamation of the Gospel and whenever necessary, a new evangelization. Christ in fact, is the most precious good thing that the men and women of every time and every place have the right to know and love and it is comforting to see that in the Church today, there are many pastors and lay faithful alike, members of ancient religious orders and new ecclesial movements who spend their lives joyfully for this supreme ideal, proclaiming and witnessing the Gospel."
More here from American Catholic and here from EWTN
Tweet