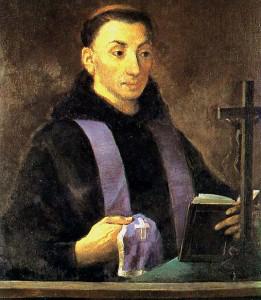 Blessed Rafal Chylinski (1694-1741) Image Courtesy: Holy Spirit RE
(Catholic Online) Born in Poland Poznan and given the name Melchior Chylinski, his father John Arnold Chylinski and his mother Margaret Kierski were both nobles, even though Melchior was born into nobility, he left his heredity rights and privileges to become a Conventual Franciscan Minor in Poland Krakow according to SQPN taking the name Rafal and Ordained into the Priesthood in 1717

Melchior attended school in the Village of Buk, in 1707 his father passed away as a result of the plague and their home was subsequently burned to the ground. Since Melchior and his family no longer had a place to live, Bishop Stanislaus Kierski (who may have been Melchior's Uncle) helped Margaret raise her sons.
In 1712 Melchior had served in the Polish Army and became an Officer, in 1715 he left the military and moved to Krakow where he joined the Franciscan Fathers as a Cleric. — In 1715 Melchior was Baptized into the Order and took the name Rafal and Ordained into the Priesthood in 1717
Fr Rafal was assigned to Parishes in 9 cities and traveled to Monasteries in: Poland Radziejow, Poznan, Gniezno, Warsaw, Kalisz, Warta and Krakow, where he distributed food, supplies and clothing to the poor according to SQPN and played a harp, lute and mandolin to accompany liturgical hymns. Fr. Rafal was known for candid sermons, generosity and as a great Confessor. Fr. Rafal devoted his life to prayer, together with caring for the poor and sick.
From 1728 to 1736 he served in the Lageiewniki, part of the Parish of Lodz where he would pass away on this date in 1742
In 1949 he was Venerated (declared heroic in virtue) by Pope Pius XII and Beatified in 1991 by Pope Saint John Paul II
More here by Angel Fire and here by American Catholic
Tweet