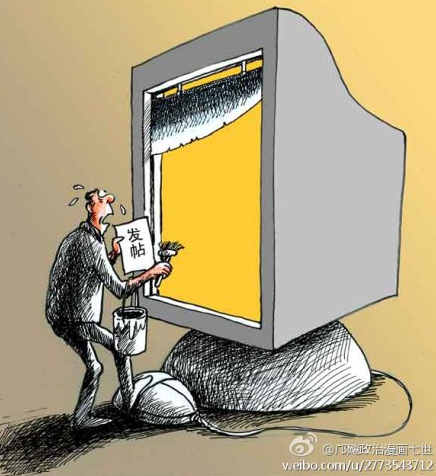 On the 28 May, new management regulations too effect for Sina Weibo, one of China's most popular social media sites as part of the regime's crackdown on social media in the country.
According to (new) regulations, Netizens logging more than 5 posts of "sensitive information" would be prevented from posting for 48 hours and have relevant content deleted.
In the above cartoon posted by artist Kuang Biao to Sina Weibo, a distressed Chinese Netizen prepares to feed a post by hand into his computer as a sharp blade hovers at the top of the screen.
Related: –China Media Project

If Every Petal is Plucked, Can Spring be Stopped
Deleted Post on Violent Enforcement & Social Injustice
Joke about Online Censorship Deleted from Sina Weibo
Post Allegedly Showing Police Violence Deleted from Sina Weibo
 Hollywood Gripped by Pressure System from China –LA Times

How China Censorship Allows Govt Criticism–Silences Expression
Tweet