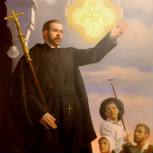 St. John Francis Regis (1597-1640)
Image: Catholic.net
(Franciscan Media) Born in France at Font-Couverte into a family of some wealth, John Francis was educated at the Jesuit College at Breziers according to SQPN and was so impressed by his instructors, that he wanted to enter the 'Society of Jesus' and did so at the age of 18 — Despite his rigorous schedule, John Francis spent many hours in the Chapel, often to the dismay of his fellow Seminarians who were concerned about his health.
Following John Francis' Ordination into the Priesthood, in 1632 he received his assignment as a missionary to the French Protestants according to Catholic News Agency as well as the country's non-religious Catholics and others in need of evangelism–the rest of his life would be devoted to this mission with remarkable success.
Fr. John Francis' missionary work spanned a large geographical distance and broad social spectrum, in over 50 districts of France, he ministered the Gospel of Jesus Christ to children, the poor, prisoners, the forgotten or neglected of society–Fr. John Francis' best known work involved helping Women escape prostitution as a result of his tireless labors, Fr. John Francis' realized a harvest of conversions.
As a result of Fr. John Francis' missionary work, he was perceived as arrogant in some cases which led to a conflict with some Priests, a period of tension with the local Bishop and even threats of violence from those whose sinful vices he condemned.
Against these obstacles Fr. John Francis persevered, sustained by fervent prayer a lifestyle known for abstinence and self-sacrifice. Fr. John Francis' missionary work involved difficult Winter time journeys–a witness at his Beatification testified to the good Fr. John Francis' habit of preaching outdoors all day, then hearing confessions all night.
Fr. John Francis passed away at the early age of 43 — Even though he was suffering from pneumonia, he insisted on ministering at a Parish Mission and hearing confessions. A Penitent later found Fr. John Francis unconscious in the confessional, he was subsequently revived long enough to receive last rites.
Hailed as a Confessor of the faith a model of Jesuit missionaries, Fr. John Francis was Beatified in 1716 by Pope Clement XI and Canonized in 1737 by Pope Clement XII
More here from EWTN and here from American Catholic
Related: Bio Courtesy of St. John Francis Regis Parish, Bloomfield Hills, MI