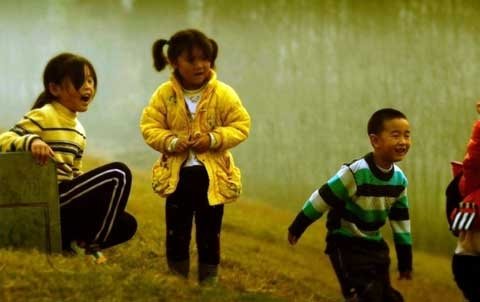 (Caixin) Beijing has reportedly now banned the more than 61 Million 'Left Behind Children' from living alone, issuing a 'directive' in February that detailed measures intended to protect children abandoned, when their parents go off to work in larger cities.
Kindergarten's, schools, medical facilities, village committee's and government run agencies at the community level are responsible for identifying children who are not adequately cared for and for reporting problems to the police, Beijing ordered.
The deaths of four children (a 14 yr old boy and his three sisters ages 10, 8 and 5) that committed suicide last June whose migrant-worker parents abandoned for more than a year, focused attention on the 'left behind children' — a suicide note left by the children said death was "my dream" Bijie Police said the children died by drinking pesticide.
In 2011 I wrote here about 1.5 yr old Xiao Ling abandoned by his parents after it was discovered that he was an HIV carrier, the toddler imprisoned behind bars was left to live in isolation at a Guangdong Province orphanage; In 2012 I wrote here about an abandoned baby girl (less than a day old) that was discovered in Anshan, with her throat slashed; In 2013 I wrote here about an abandoned baby girl that was discovered with ants crawling all over her face in Zhengzhou, Henan Province and in 2014 I wrote here about China parents abandoning their children at a 'Baby Hatch' in Guangzhou, many malnourished and sick.
In 2014 according to the 'All China Women's Federation' CCTV reported China has long been aware of the more than 61 million (1 in 5 children) abandoned children (that figure represented a more than 150% increase from 2010) — Migrant workers choose to leave their children behind because of a shortage of income, difficulties in finding suitable schools and busy work schedules that result in their children having no one to care for them.
China's latest brainstorm to care for the millions of abandoned children, Beijing has ordered that parents who fail to provide their children with proper care (a very subjective term) will be deprived of their parental rights and their children will be put into the care of peasant relatives (some living as they have 40 yrs ago) or foster parents.
One can only hope the children would be placed in better conditions than these children I wrote about here in 2014 during Michelle Obama and her daughters vacation to China or the 80 orphan children in Shanxi Province that I wrote here about and pictured families living in squalor on less than $2.00 a day.
As I have written here previously, we'll always welcome any unwanted child from China into our home or in the alternative, we'd very much like to build St. Teresa Benedicta and St. John Bosco "Homes for Kids" in China with the cooperation of Beijing, the Catholic Church and Christians.