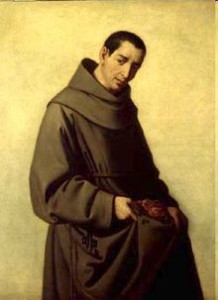 St. Didacus (1400-1463)
Image: Univ of San Diego
(Franciscan Media) San Diego de Alcala de Henares (St. Didacus) was born in Spain Seville, his family were poor but God fearing according to Mission Basilica San Diego de Alcala— While still quite young Didacus, joined the Third Order of St. Francis when he had scarcely reached young manhood and under the direction of a devout Tritiary Priest, he would serve God for a long period of time as a Hermit developing a reputation for great insight into God's ways.
Didacus penances were heroic and he became so generous to the poor that the Friars sometimes grew uneasy about his charity. Didacus would volunteer for the Missions on the Canary Islands, laboring there energetically and profitably–while there, he became the Superior of a Friary.
In 1450 Franciscan Didacus was sent to Rome to attend the Canonization of Saint Bernardine of Siena (Feast Day: 20 May) when many Friars that had gathered there for the celebration fell sick, Didacus stayed caring for them for 3 months. Following Didacus return to Spain, he pursued a contemplative life full time, showing the Friars the wisdom of the ways of God.
When Didacus felt the end of his life was nearing, he requested an old worn-out habit, so that he may die in it, as the true son of the poor St. Francis. Before breathing his last, Didacus looked at a Crucifix and said:
"O faithful wood, O precious nails. You have borne an exceedingly sweet burden, for you have been judged worthy to bear the Lord and King of Heaven."
Didacus passed away in November 1463 at the Franciscan Monastery in Spain Alcala holding a Crucifix to his heart. — Didacus was Canonized in 1588 by Pope Sixtus V
St. Didacus (St. San Diego de Alcala de Henares) is the Patron Saint for both the City and University of San Diego, California
More here from American Catholic