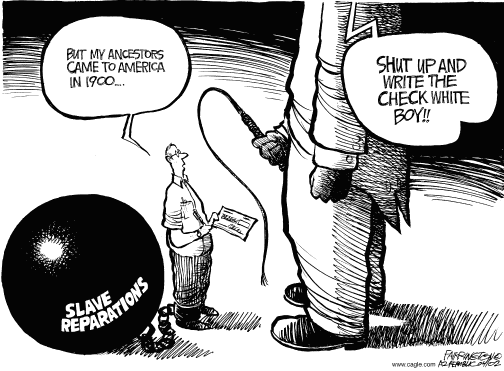 Now that Senate Democrats have apologized to African Americans for slavery, how soon will it be before the House of Representatives apologizes and incorporate language in their bill, authorizing people to seek financial reparations?

Rep. Shelia Jackson Lee, D-TX said, "I would not want to have any language in place that would deny anyone, any citizen, the right to address a grievance."
Rep. Bennie Thompson, D-MS said, "I feel that some method other than just an apology should be made. People should be made whole."
Given the fact that Slavery ended in 1865 or 134 years ago, who pray tell, do Congressional Democrats intend to compensate for damages?

Who will be next to seek reparations?
California Assemblyman Paul Fong, D-Mountain View, is seeking financial reparations for the discrimination of Chinese immigrants that came to the United States during the 19th and 20th century.
More here from FOX News