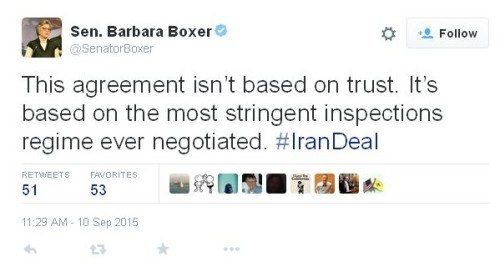 Is Sen Barbara Boxer (D-CA)@Twitter Just Really Gullible or Naive?
(NY Times) The Director of the Intl Atomic Energy Agency (IAEA) has conceded that Iran not the IAEA are doing their own self-inspections under the supposed 'watchful eye of surveillance devices' at the Parchin suspected nuclear weapons site–Iran has turned over samples to the nuclear watchdog.
Sen. Boxer, how is this the 'most stringent inspection' and how pray tell can one be sure that the 'samples' collected are actually from the nuclear weapons site and not from some other clean, uncontaminated site?
Related: Iran President Rouhani Defends 'Death to America' Chants
Iran Increases Funding to Hezbollah & Hamas in Wake of Nuke Deal