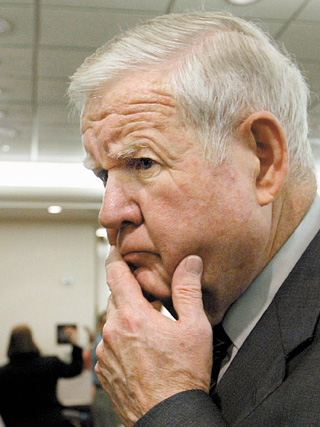 Democrat-Socialists in Congress face yet another tough election race, following the death of Rep. Murtha, dubbed by his own colleagues as the "King of Pork" barrel spending.
Murtha's Congressional earmarks kept the John Murtha Jognstown-Cambria County Airport operating with $200 million in taxpayer dollars being wasted during the past decade, ferrying very few passengers with a mere three daily departures on United Express to Dulles International Airport.
The American taxpayers deserve better with Trillion Dollar Budget deficits as far as the eye can see $200 million here and $200 million there, may not seem like a significant sum of money to Congressional Democrat-Socialists but to the American taxpayer, fed up with Congressional Earmarks and Broken Promises that is real money.

During the 2008 Presidential Campaign Barack Obama promised to go "line by line to make sure that we are not spending money unwisely" but instead of keeping his word to the American people, in March President Obama, signed an omnibus spending bill containing more than 9,000 earmarks.
On the 20 November, I wrote here that during the first year of Obama's watch the federal budget deficit quadrupled.
More here from Guardian UK
Related: Another Broken Promise, Obama raised taxes on the middle class Via Breitbart