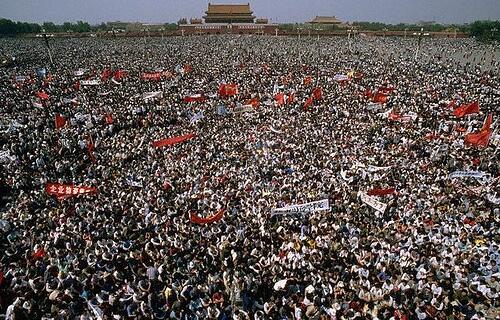 100,000+ Students Led Protests of the China Regime in 'Tiananmen Square' in 1989 –Image: Maxime Duprez@Twitter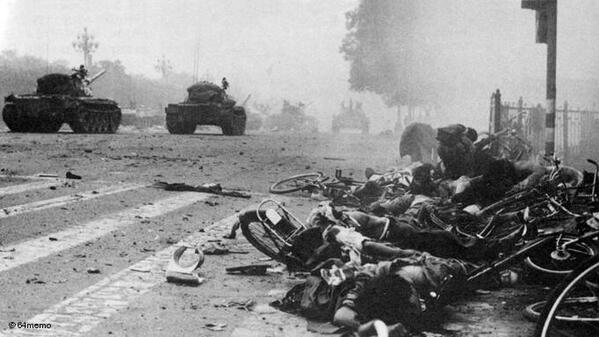 China Regime Would Like to Suppress Pictures Such as This One of the 1989 Tiananmen Square Massacre –Image: Richard Waghorne@Twitter
June 4th at 25: Resisting Enforced Amnesia, Building a Just Future –HRIC
(RFA) Chinese authorities have detained or placed under close surveillance  the relatives of those who were murdered or maimed in the 1989 military crackdown on student-led protesters in Tiananmen Square ahead of the 25th Anniversary of the tragic event on the 04 June
Ding Zilin, founder of the 'Tiananmen Mother's' group is presently being detained and unable to return home in an unknown location outside of Beijing–You aged 61, whose husband died from gunshot wounds during the massacre, said many more group members have been placed under tight security ahead of the sensitive 25th Anniversary of the 04 June bloodbath.
"This year the controls placed on us are different than those in previous years," You said. "Ding isn't able to return to Beijing and everyone we know with a (Tiananmen) connection is under house arrest–On the 25th Anniversary, they want to silence us so we can't speak out or hold any memorials," she said.
Yesterday I wrote here that Florida Democrat Congressman Joe Garcia, claims that "Communism works." I'm thinking that many that live under the control of the Marxist China Regime, likely do not share Rep Garcia's sentiments.
Related: Harmonious China Has 500 Protests Daily –Asian Conservatives
China Authoritarianism Challenges Democratic Values –VOA (Chinese)