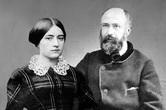 Saint Loius Martin & Saint Zelie Guerin
Image: Carmelite Sisters of Ireland
(Franciscan Media) Born in France Bordeaux 1823 Louis' desire to join a religious community went unfulfilled as he didn't know Latin, he therefore trained to become a watchmaker.
Subsequently upon moving to Normandy, he met and fell in love with the highly skilled lacemaker Zelie, who also had been disappointed by her attempted to enter a religious order in her life — In 1858 Louis and Zelie were married and God blessed them with 9 children though two sons and two daughters died during infancy.
Louis would help manage his wife's Zelie lacemaking business in their home while raising their children — Louis would become a widower when his wife Zelie died from breast cancer just months before her 46th birthday.
Following Zelie's death, Louis moved his family to France Lisieux, to be near his brother and sister-in-law who helped with the education of his 5 surviving girls. — In 1889 Louis would suffer two paralyzing strokes according to SQPN followed by psychological trauma which resulted in his hospitalization for the next three years.
As Louis health deteriorated, his eldest daughter entered the Monastery of Mt. Carmel at Lisieux in 1888 — Subsequently, all 4 of her siblings also  entered into a religious life becoming Nuns, the youngest of which became Saint Therese of the Child Jesus (Feast Day: 01 October)
In 1894 their father Louis passed away. — Both Louis and Zelie were Venerated declared 'Heroic in Virtue' in 1994 by Pope Saint John Paul II and Beatified in 2008 by Pope Emeritus Benedict XVI — In October, both Blessed Louis Martin and Blessed Zelie Martin will be Canonized by Pope Francis in Rome during the Synod of the Family.
More here from the Carmelite Sisters of Ireland and here by EWTN