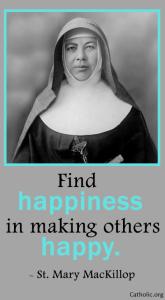 Saint Mary MacKillop (1842-1909)
Image: Catholic Online
(Franciscan Media) Born in Australia Melbourne, Mary was the eldest child of Alexander and Flora MacKillop poor Scottish immigrants–Alexander had studied for the Priesthood according to SQPN but was never Ordained. Mary was educated in private schools and bu her father. To help support her family which struggled financially, Mary worked as a 'Nursery Governess' while in her teens, together with tutoring and teaching–subsequently Mary established a 'Seminary for Young Ladies' in her home.
Mary felt called to a religious life but felt obligated to continue Teaching to help support her family, however a scandal caused by a jealous and corrupt education official, caused Mary to resign her teaching position and to leave the school without guilt with the support of her family. –Mary and her sister moved to South Australia Penola, there they met Fr. Julian Tennison-Woods in 1860 who became Mary's spiritual director. Together they founded a new community of Women, 'The Sisters of St Joseph of the Sacred Heart' (becoming known as the Josephite Sisters) its members were to staff schools, especially for poor children, orphanages and do other charitable work.
As the 'Josephite Sisters' grew so did Mary's problems. Fr. Julian Tennison-Woods proved unreliable in many way and his responsibilities for the direction of the 'Josephite Sisters' were removed. Meanwhile, Mary had the support of some local Bishop's as she and her Sisters went out their work but the Bishop in South Australia, aging and relying on others for advice, briefly excommunicated Mary, charging her with disobedience and dispensed 50 of Mary's Sisters from their vows. — In truth, the Bishop's quarrel was about power and who had authority over whom? The Bishop ultimately rescinded his Order of excommunication.
Mary had insisted that the 'Josephite Sisters' should be governed by an elected mother answerable to Rome and not to the local Bishop — There was also a dispute whether or not the 'Josephite Sisters' should own property. In the end, Rome proved to be Mary's best source of support. After a long wait, official approval of the 'Josephite Sisters' and how it was to be governed came from Pope Leo XIII
Despite Mary's struggles with Church authorities, she along with her Sisters were able to offer social services that few, if any government agencies in Australia could. The 'Josephite Sisters' served both Protestants and Catholics alike. They worked among the indigenous (aborigines) Australians, they taught in schools and orphanages together with serving unmarried mothers.
Finances, or the lack thereof was a continual worry but the Sister's who sought charity door-to-door, were bolstered by faith and conviction that their struggles were merely opportunities to draw closer to God.
By the time that Mary was approaching the twilight, the 'Josephite Sisters' were thriving. Mary passed away in 1909 in Sydney of a stroke. In 1995 Mary was Beatified by Pope Saint John Paul II and was Canonized in 2010 by Pope Emeritus Benedict XVI becoming the first Saint of Australia.
More here from American Catholic and here from Sisters of St. Joseph