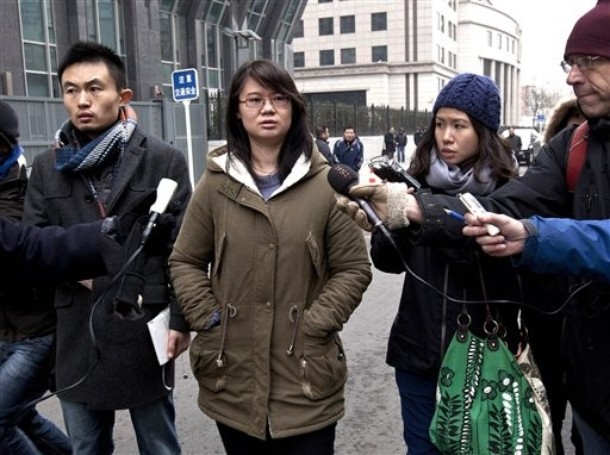 Dong Xuan daughter of  wheelchair bound Chinese Human Rights Activist and Atty Ni Yulan who was crippled  by torture while in police custody, being interviewed by Journalists outside Xicheng District Peoples Court in Beijing where her mother and father are on trial charged with picking  quarrels and provoking troubles the couple deny the superfluous allegations and have plead not guilty.

On the 18 October, 2010 I wrote here former Beijing Human Rights Atty Ni Yulan publicly expressed her grievances on World Habitat Day, by attending a protest march, speaking about her experiences of forced government evictions and demolitions.
Ni Yulan was the winner of the 2011 Human Rights Defenders Tulip Award from the Dutch government and was not permitted to leave the country on the 22 December to receive the award–her daughter Dong Xuan was detained at the Beijing Airport on the 25 January when attempting to travel to the Netherlands to accept the prestigious award on behalf of her mother.
More here from The Epoch Times