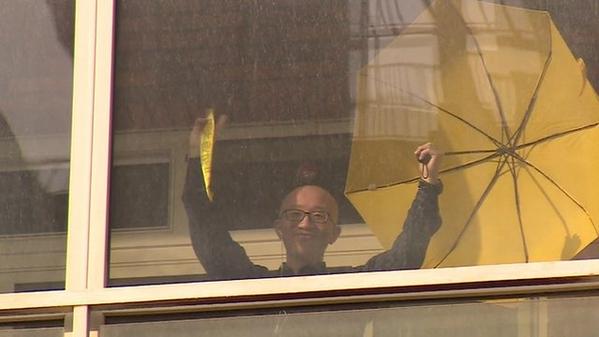 China Human Rights Activist Hu Jia Seen Standing By a Window Supporting Hong Kong's 'Umbrella Revolution' Image: BBC@Twitter

(BBC)  Human Rights groups are calling on world leaders to raise the issue of 'Human Rights' in China during the 'Asia-Pacific Economic Cooperation' (APEC) Summit.
Amnesty International says that 76 people have been detained arrested by the China regime during the past few weeks for supporting the "Freedom Movement" in Hong Kong.
BBC reporter Martin Patience attempted to visit the home of Hu Jia in Beijing but was turned away by authorities.
On the 06 November, Radio France Intl reported (in Chinese) that China Dictator Xi Jinping now says that is time to reverse Deng Xiaoping's "One Country Two System's" policy.
Obama reportedly will be addressing with Xi Jinping concern of  their cyber-espionage on the United States but will he also bring up China regime's human rights abuses, their inhumane treatment of Human Rights Atty Gao Zhisheng, Activist Liu Xiaobao and many, many others?