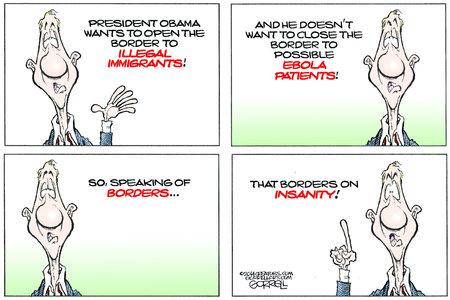 (AP) Top medical experts studying the spread of Ebola say the American public should expect more cases to emerge in the U.S. by years end as more infected people arrive from West Africa, including American Physicians and Nurses returning from the hot zone and people fleeing the deadly disease–but how many cases?
No one knows for sure but infectious disease experts predict anywhere from a mere one or two additional cases of Ebola to a worst case scenario of 130 cases according to simulations conducted by the Associated Press.
Almost all of the predicted cases will be healthcare workers returning from West Africa.
"I don't think there's going to be a huge outbreak here," Dr David Relman, Professor of Infectious Disease, Microbiology and Immunology at Stanford Univ Medical School told the AP, "however, as best as we can tell right now, its quite possible that every major city will see at least a handful of cases."
A total of eight patients have currently been treated in the United States–Only two of them contracted Ebola within the U.S. and both were healthcare workers who treated 26 year old Thomas Eric Duncan who contracted Ebola in Liberia and died in Dallas last month.
Flashback: Remember in September when Obama claimed the Ebola virus shouldn't reach our shores.

On the 17 October, I wrote here that the World Health Organization announced that Ebola has a 70% mortality rate.

More here from The Washington Examiner