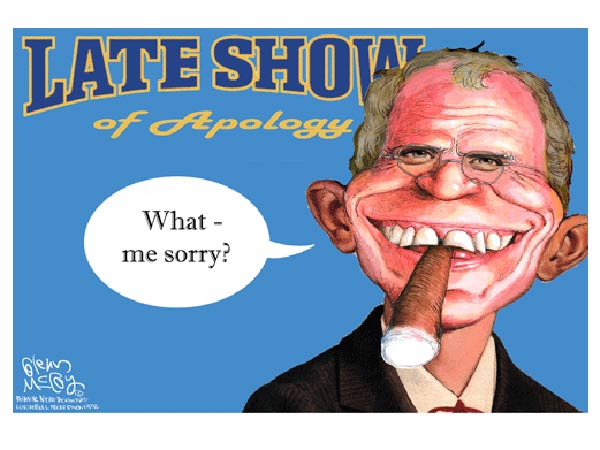 David Letterman is a sexual predator as if there was some doubt about it.
Letterman admissions this week that he has sexually harassed subordinates, preying on his latest conquests for sexual favors is nauseating. Where is the moral outrage?

We knew in June following Letterman's despicable comments about Gov. Sarah Palin's daughter, that Letterman has no conscience.
Michelle Malkin hit the nail squarely on the head when she called David Letterman a "Perv" contemptuous of women.
In my post I said that the late night CBS Talk Show host is malicious and tawdry making sexist and degrading jokes about young girls being raped.
When will CBS finally do the right thing and terminate Letterman?
Related Posts:

You know whats creepy? Telling a story about having
sex with your employees to people who LAUGH and APPLAUD
Via TV Barn
Where is the Outrage over David Letterman?
Via Opposing Views