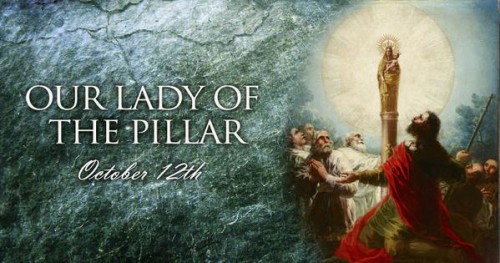 Our Lady of the Pillar — Pray For Us –Image: Catholic News Agency
(CNA) The first Marian apparition in history appeared to St. James the Apostle, the Brother of St. John the Evangelist on the bank of the river Ebro in Spain Saragossa — Unlike every other recorded apparition, this one took place during the earthly life of the Blessed Virgin Mary, Mother of God.
According to tradition, Mary promised St. James, that when he needed it most during his difficult mission to what is now Spain, that the Blessed Virgin Mary would appear to him and encourage him.
In the year 40 AD while St James was praying one night, the Blessed Virgin Mary appeared with the 'Child Jesus' standing on a pillar and asked St. James together with his eight disciples to construct a Church on the site, promising him that "it will stand that moment until the end of time in order that God may work miracles and wonders through my intercession for all those who place themselves under my patronage."

The Church of Our Lady of the Pillar (photo gallery) in Spain, Zaragoza, is the very first Church dedicated to the Blessed Virgin Mary in history and is standing to this day, having survived invasions and wars. — During the Spanish Civil War of 1936-1939 three bombs were dropped on the Church and not one of them exploded.
Our Blessed Lady is also said to have given the small wooden statue of the apparition to St. James which now stands on a pillar in the Church.
Nuestra Senora Del Pilar (Our Lady of the Pillar) is the Patron Saint of Spain and all Latino people — On this day in 1492 the 'Feast of the Virgin Pillar' is the day Christopher Columbus first sighted American land and when the first Holy Mass was first celebrated in America.
More here on Spain's Natl Holiday & the Feast of the Virgin of Pillar
Related: Saint of the Day — St. Seraphin of Montegranaro -Franciscan Media