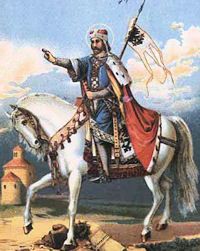 Saint Wenceslaus (907-929)
Image: Pinterest
(EWTN) Born in Prague Bohemia what is today the Czech Republic, Wenceslaus was the son of Duke Wratislaw a Christian and Dragomir a wicked heathen according to Catholic Encyclopedia — Wenceslaus received a good Christian education from his Grandmother Saint Ludmilla (Feast Day: 18 September)
Following the death of his father (Duke Wratislaw) Dragomir, acting as regent, opposed Christianity — Wenceslaus was urged by the people to take the reigns of government, he would place his Duchy, under the protection of Germany and introduced German Priests.
Wenceslaus took the vow of chastity and became known and respected for his virtues. — Emperor Otto I conferred on him the regal dignity and title.
For religious and national motives and at the instigation of his evil mother Dragomir, Wenceslaus was murdered by his brother Boleslaw at the door of the Church according to SQPN and buried there. 
Emperor Otto responded to Wenceslaus death by invading Bohemia according to Catholic News Agency and engaging in battle for several years conquering the region. Otto I forced Boleslaw (some write Boleslaus) to reverse the anti-Christian measures that he and his evil mother Dragomir had taken.
There is no evidence that Dragomir who died soon after the murder of Wenceslaus ever repented for the murder of her son. Boleslaw however came to regret his wicked deed of murdering his own brother (and repented) when he learned of miracles that were taking place where Wenceslaus was buried.
Pope Emeritus Benedict XVI on this date in 2009 in the Czech Republic during his homily said: "This is the lesson we can learn from Saint Wenceslaus, who had the courage to prefer the Kingdom of Heaven to the enticement of world power. His gaze never moved away from Jesus Christ who suffered for us, leaving us an example that we should follow in His steps…As an obedient disciple of the Lord, the young Prince Wenceslaus, remained faithful to the Gospel teachings he had learned from his Grandmother Saint Ludmilla — In observing these, even before committing himself to build peaceful relations within his lands and with neighboring countries, he took steps to spread the Christian faith, summoning Priests and building Churches…he was benevolent to the poor, clothed the naked, gave food to the hungry, welcomed Pilgrims just as the Gospel enjoins. He (Wenceslaus) did not allow injustice to be done to widows, he loved all people whether rich or poor. — He learned from the Lord to be merciful and gracious…"
Saint Wenceslaus is the subject of the well known favorite Christmas Carol 'Good King Wenceslaus' written  in 1853 by English Hymnwriter John Mason Neale in collaboration with music editor Thomas Helmore.
More here from American Catholic