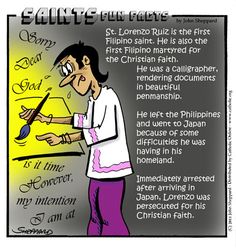 Saint Lorenzo Ruiz (1600-1637)
Image: Catholic Online
(Franciscan Media) Born in Philippines Manila to Christian parents his father Chinese and mother from the Philippines, Lorenzo would learn Mandarin from them and Spanish from the Dominicans, whom he served as an alter boy and sacristan; Later Lorenzo learned calligraphy and would transcribe documents beautifully–he was a full member of the Confraternity of the Holy Rosary under the Dominican auspices, later Lorenzo would marry and have three children–two sons and a daughter.
Lorenzo's life took an abrupt turn when he would be accused of murder–nothing more is known of this except the state of two Dominican's that "he was sought by the authorities on account of a homicide to which he allegedly was present or which was attributed to him."
At about this same time, three Dominican Priests (Fr's Antonio Gonzalez, Guillermo Courtet and Miguel de Aozaraza) were about to sail to Japan in spite of violent persecution there. — With them was a Japanese Priest Fr. Vicente Shiwozuka de la Cruz, and a Laymen Lazaro, Lorenzo accepted refuge from them and permitted to accompany them. Only when they were at sea, did Lorenzo learn they were going to Japan.
Finally landing in Okinawa, Lorenzo could have sailed on to Formosa (today known as Taiwan) but he reported: "I decided to stay with the Fathers because the Spaniards would hang me there." — In Japan, the group were soon found out, arrested and taken to Nagasaki, there they were subjected to unspeakable tortures. According to SQPN xxx Lorenzo and the Priests broke at one point and were ready to renounce their faith in exchange for release but after their moment of crisis, they reclaimed their faith, defying their tormentors until death.
Lorenzo died in September 1637 — Venerated in 1980, Beatified in 1981 and Canonized in 1987 by Pope Saint John Paul II
More here by Pope Saint John Paul II here by American Catholic and here Novena to St. Lorenzo from Children's Rosary