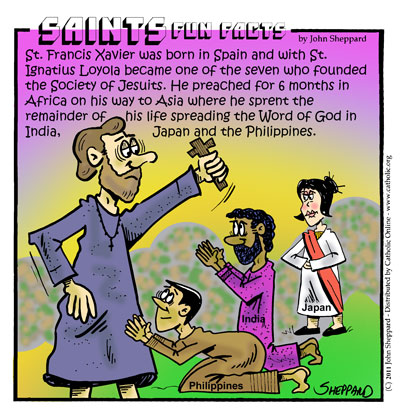 St. Francis Xavier (1506-1552) Image Courtesy: –Catholic Online
(Franciscan Media) Born in Northern Spain, Basque Province and given the birth name Francisco (Francis) de Jasso y Azpilicueta, Francis studied and taught Philosophy at the University of Paris according to SQPN and planned a career as a Professor. Francis' friend St. Ignatius of Loyola (Feast Day: 31 July) after converting Francis to Christianity, he would convince him to use his natural abilities to spread the Gospel.
In 1534 Francis would join St. Ignatius of Loyola newly formed group 'The Company of Jesus' today known as the 'Society of Jesus' (Jesuits) which received Papal approval in 1540 Together at Montmarte, they took vows of poverty, chastity and apostolic service according to the direction of Pope Paul III (1534-1549)
From Venice, where Francis was Ordained a Priest in 1537 Fr. Francis Xavier, went on to Lisbon and from there, set sail to the East Indies landing in India Gao — While in Gao awaiting on a ship according to SQPN Fr. Francis Xavier witnessed for Christ on the streets, cared for the sick and taught children their Catechism, it is said that he walked through the streets ringing a bell to call the children to their studies. During Fr. Francis Xavier stay in Gao, its reported that he was able to convert the entire city to Christianity. For the next 10 yrs he labored to bring Christianity to such widely scattered people as the Hindu's, the Malayans and Japanese. Fr. Francis Xavier would however spend much of that time in  India and served as Provincial of the newly established 'Jesuit' province of India.
Wherever Fr. Francis Xavier went, he lived with the poorest people, sharing their food and tough accommodations. Fr. Francis Xavier would spend countless hours caring and ministering to the needs of the sick and poor but especially to those with Leprosy. Very often he had no time to sleep or even to say his breviary but as we know from his letters, Fr. Francis Xavier was always filled with joy.
Fr. Francis Xavier went through the islands of Malaysia and then to Japan, where he learned enough Japanese to speak to people, preach, baptize Christians and to establish missions for those who followed him. From Japan, he had dreams of going to China to minister but this was never realized as he died this month in 1552 at China, Sancian Island, where St. Francis Xavier Memorial Church was built in his honor.
More here from American Catholic