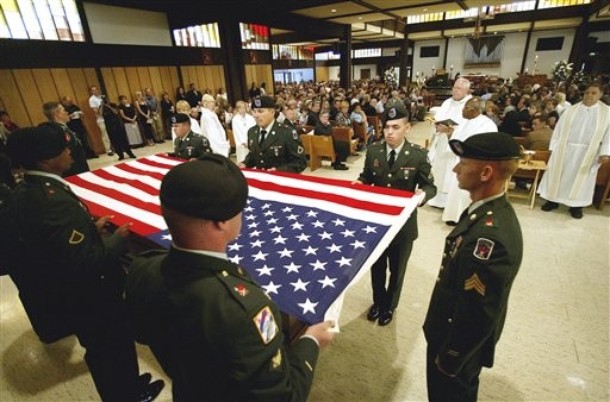 Pall Bearers for Army 1st Lt. Brian Bradshaw, hold the American Flag which covered his casket during a Memorial Service at St. John's Bosco Church in Lakewood, Washington on Monday.
American Hero, 1st Lt. Bradshaw, was killed by an IED in Afghanistan on the June 25
Relatives of this fallen American hero decry the lack of media coverage amid the Michael Jackson circus atmosphere, which followed the entertainer's death, nearly round the clock during the past week.
On Tuesday I wrote here that the Michael Jackson Memorial became nothing more than a MSM obsession.
Shame on those who have placed a peculiar entertainer who accomplished nearly nothing in his shortened life on a virtual pedestal.
More here from FOX News