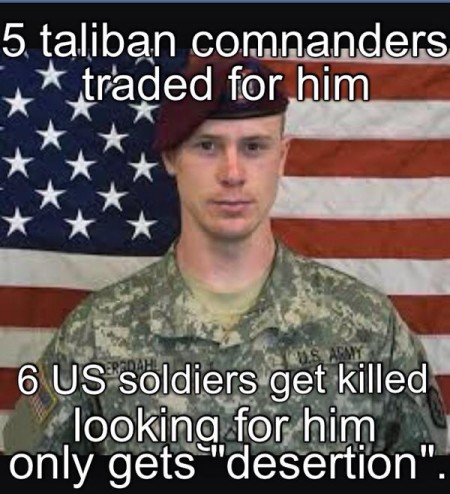 Army Deserter Bowe Bergdahl Found During California 'Pot Raid'
Image Courtesy: Broken News

(FOX News) Army Deserter Bowe Bergdahl who the Obama Administration claimed served with 'Honor & Distinction' trading 5 Top Taliban Terrorist Commanders for him wound up in the middle of a 'Pot Raid' in Northern California this week.
Captain Greg Van Patten with the Mendocino County Sheriff's Dept told FOX News on Thursday, the counties marijuana eradication team encountered Bergdahl on Tuesday while serving a search warrant on a "Pot Farm" in Redwood Valley.
When Bergdahl encountered the Sheriff's Dept team, Van Patten said he identified himself. Law enforcement contacted the Dept of Defense which confirmed that Bergdahl was on leave and asked for the assistance in getting him back.
More here from NBC Bay Area

H/T: Tammy Bruce