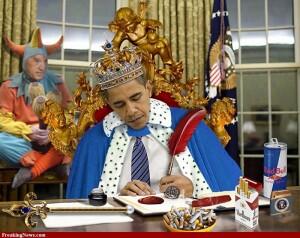 Wannabe King Obama –Image: Last Great Stand@Twitter
(Ynet) President Obama signed legislation into law, blocking Islamic Fascist Iran from sending Hamid Aboutalebi as their ambassador to the United Nations–the legislation bars anyone from entering the United States as a UN representative if they've engaged in espionage or terrorist activity and continue to pose a security threat to the U.S.
Aboutalebi, was a member of the Muslim Student followers of Ayatollah Khomeini which was responsible for the kidnapping of 52 Americans during the 1979 Iranian revolution and holding them in captivity for 444 days until their release was announced by President Reagan during his first inaugural address.
Obama claimed that he shares Congressional lawmakers concerns that terrorists could use diplomatic cover to enter the United States but said that he will only treat the legislation that he signed into law as 'an advisory' opinion as it may interfere with his discretion to receive ambassadors.
When was the Constitution repealed that gave Wannabe King Obama the authority to pick and choose which laws to obey?