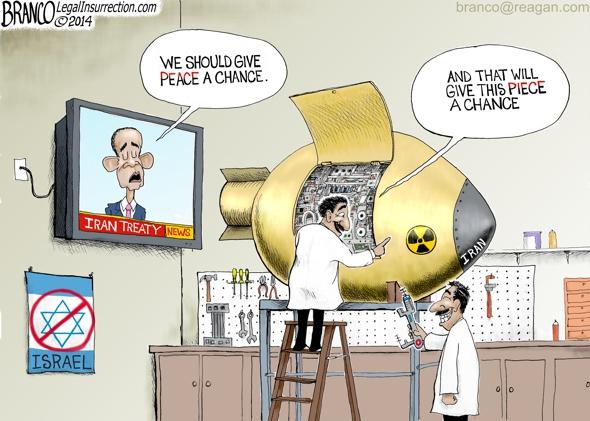 Wannabe King Obama Sees Deal With Iran to Avoid Congress
Cartoon: Legal Insurrection
(NY Times) Should an agreement be reached between the Obama Administration and Iran the Treasury Dept has concluded that Obama, has the authority to suspend the vast majority of sanctions imposed on Islamic Fascist Iran without seeking Congressional approval.
"We wouldn't seek Congressional legislation in any comprehensive agreement for years," said one Obama Administration official.
White House officials say that Congress should not be surprised by this plan (they've gone around Congress so many times already without consequence–I digress) pointing to testimony earlier this year when top negotiators argued that the best way to assure Iran complies with its obligations is a step-by-step suspension of sanctions.
"We've been clear that initially there would be suspension of any of the U.S. and international sanctions regime and that the lifting of sanctions will only come when the Intl Atomic Energy Agency (IAEA) verifies that Iran has met serious and substantive benchmarks," said Bernadette Meehan, spokesperson of the Natl Security Council.
Meehan added, there "is a role for Congress in our Iran policy" but Members of Congress want a role larger than consultation and advice.
Many of the details of the negotiations with Iran remain cloaked in secrecy. Wendy Sherman, Under-Secy of State for Political Affairs had struck a deal with Congressional leaders that enables her to avoid public comment when negotiations are underway–Its time to rescind that deal.
In 2010 The Christian Science Monitor reported  that the IAEA had sounded a note of caution about any of Iran's claims that it isn't interested in obtaining nuclear weapons adding that he couldn't guarantee that all of the countries atomic activities are civilian and for peaceful purposes as Iran has long insisted.
According to the IAEA in September, Reuters reports that Iran had failed to address concerns about 'suspected atomic bomb research' by an agreed deadline and have implemented, just 3 of the 5 nuclear transparency steps that it was obligated by the 25 August, under a so-called 'confidence building agreement' it had reached with the IAEA last November–which the Obama Administration is ignoring.
The IAEA has observed through satellite imagery 'ongoing construction activity' at Iran's Parchin military base–Officials believe that Iran once conducted explosive tests there of relevance in developing a nuclear weapon and has sought to "cleanse" it of evidence since then.