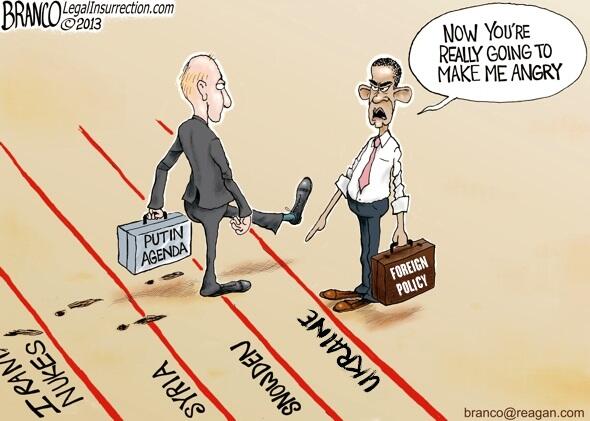 Obama's Red Line –Cartoon: Legal Insurrection
(CBS News)  President Obama put Vladimir Putin 'On-Notice' Wednesday evening, that there will be serious consequences if Russia takes further military action in the Ukraine.
In March, the Obama Administration 'warned' the Russian's that there would be "serious consequences" if last ditch talks to resolve the Ukrainian crisis were not resolved.
It still doesn't appear that Vladimir Putin has received that memo.
In related news, Haaretz reports that pro-Russian separatists in Eastern Ukraine, have posted a notice near a local synagogue ordering that all Jews register or face deportation.
Ukrainian crisis is sounding eerily familiar to Nazi Germany everyday.

Related: Russian Supported Thugs Attack Ukraine Military Base –CNN

Lt Col Ralph Peters: Putin Brilliantly Beats Obama in Ukraine