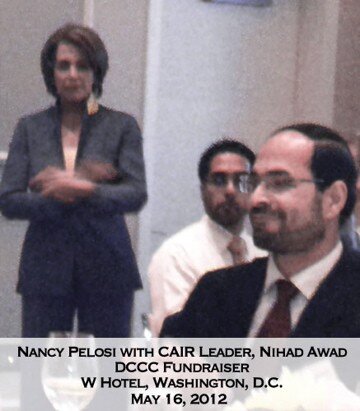 Nancy "Hamas is a Humanitarian Organization" Pelosi Attended a Democratic Fundraiser with Hamas Front Group CAIR Leader –FrontPage
(The Hill) Facing tough election contests, a handful of centrist Democrats are targeting House Minority Leader Nancy Pelosi (D-CA) in hopes the message will resound with voters put off by the polarizing Democrat leader.
Rep John Barrow (D-GA) for instance is running ads designed to trumpet his alleged 'independence' from Democratic leaders such as Pelosi saying:
"I have voted 54% of the time with Speaker John Boehner (R-OH) and voted against Nancy Pelosi for Speaker."
Irv Halter the Democrat long-shot challenging 4 term Rep Doug Lamborn (R-CO) had a similar message:
"Career politicians like Doug Lamborn and Nancy Pelosi have failed–Vote them out."
Gwen Graham, the Florida Democrat challenging GOP Rep Steve Southerland in a tightly contested race, also is targeting Pelosi on the campaign trail with an ad featuring Boehner and Pelosi standing side-by-side:
"Congress is broken. Both parties Republican and Democrat are to blame and both need new leaders in Washington."
In many parts of the country, Pelosi is a radioactive personality whose mere mention can energize Conservatives and send Democrats running for cover. Its in these districts Democrats have sought to distance themselves from their own party leader.

H/T: Weasel Zippers