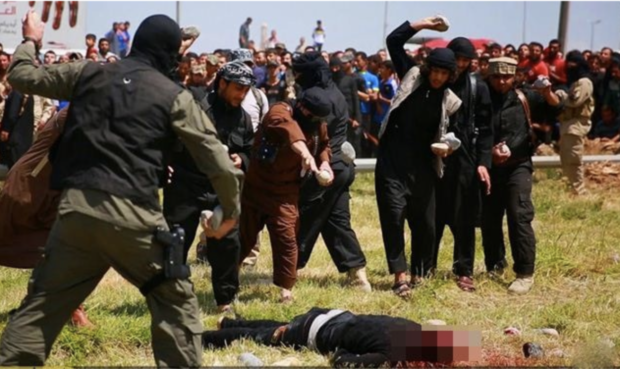 How They Celebrate Diversity in the Islamic Caliphate
(ARA News) Islamic Fascist Thugs stoned to death a teenage boy in Syria for being Gay, activists and eyewitnesses reported on Monday — Jamal Nassir al-Oujan age 15, was arrested by ISIS police in Syria's eastern  Deir en-Zor on Sunday, the Sharia Court accused him of Sodomy and decided to stone him to death.
"Al-Oujan was brutally stoned to death by ISIS militants in Jaradiq Square in the Maydin City on Monday afternoon," an eyewitness told ARA News.
"Also some civilians were forced to participate in stoning the victim, the brutal scene has shocked all residents of Maydin," added the eyewitness.
Speaking to ARA News. Ahmed Ramadan a media activist said, "The radical group (ISIS) has violated all human rights by carrying out brutal atrocities against civilians, punishing people on baseless charges only to show off its power over unarmed peaceful civilians."
On Monday, I wrote here that ISIS Jihadists in Iraq set fire to a home and burned a 12 year old Christian girl alive for failing to pay a tax — the young girl offered forgiveness to  her murders before she succumb to her injuries.
H/T: Weasel Zippers